AOC Slams Lindsey Graham Over Filibuster Ousting: 'You Sound Insecure'
GOP Senator Lindsey Graham's assertion that liberals are committing "an assault on democracy" in the United States was met with a quick backlash from Democratic Representative Alexandra Ocasio-Cortez.
"It took us 50 years to overturn Roe vs Wade," Graham tweeted. "We worked hard, won elections, and put conservatives on the court. 5 days after losing at Supreme Court, Democrats want to blow up the Senate!"
The senator was referring to Donald Trump's three successful justice nominations that expanded the Court's conservative majority. His multiple tweets on Thursday also alluded to President Joe Biden's willingness to get an exception to the Senate filibuster rule in an effort to preserve abortion rights after Roe was overturned by the Supreme Court last week. Biden said Thursday he supports codifying the right to an abortion into federal law and is urging Congress to do so.
In response to Graham, Ocasio-Cortez tweeted, "You sound insecure. As you should be. Your attempt to seize bodily autonomy from millions of women & LGBT+ people is a stain on our country.
"I don't care how long you 'worked' to seize control of people's bodies," the New York Democrat continued. "That right belongs to individuals, not you. We will not comply."
Newsweek reached out to Ocasio-Cortez and Graham for comment.
It's not just abortion rights that Biden has had in mind when talking about filibuster changes. Earlier this year, he said he supported altering the Senate rule to get a voting rights bill on the chamber's floor.
On Thursday, the offices of Democratic Senators Joe Manchin and Kyrsten Sinema reiterated that they are not in favor of changing the filibuster rule, even if it would help in codifying abortion rights into federal law. Both senators have said they disagree with women's reproductive rights becoming more limited.
Last week, Ocasio-Cortez participated in a protest outside the Supreme Court after its decision on Roe went public, fulfilling what many expected when a majority draft opinion from the conservative justices was leaked in May.
Other controversial decisions were handed down by the Court before the conclusion of its term Thursday. They include striking down a gun-carrying law in New York state, reducing the regulatory power of the Environmental Protection Agency and rescinding the Trump-era "remain in Mexico" policy, which prevented migrants from seeking asylum in the U.S. while waiting for immigration hearings.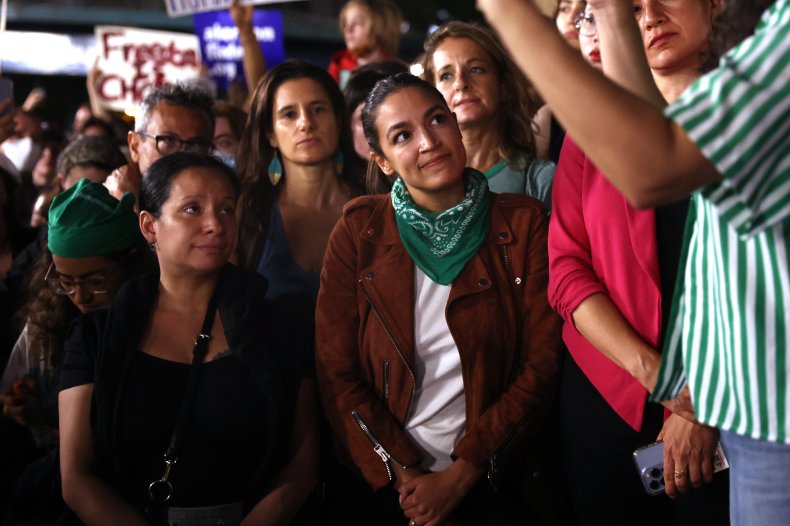 This week, Graham also issued a warning about what liberals are "planning" if the GOP doesn't gain control of the Senate in this November's midterm elections.
"These people are crazy," the South Carolina senator said. "They want to pack the Supreme Court. They want to abolish the Electoral College so New York and California can pick the president. They want to federalize all elections so they can ballot-harvest and do away with voter I.D."
White House press secretary Karine Jean-Pierre said on June 25 that Biden "does not agree with" expanding the number of justices on the Court. She did not elaborate.
The Court has had nine justices for about 150 years, but the Constitution does not specify an exact number, which has changed seven times in U.S. history. There have also been two instances of "court packing," one of which ultimately failed.
"In 1801-1802 the Federalists are on their way out," Joshua Braver, an assistant professor at the University of Wisconsin Law School, told Newsweek. "They lose in the revolution of 1800 and the election to Jefferson, and they're really afraid of Jefferson."
This led to the disappearance of a Court seat during a lame-duck session, although Jefferson later restored the seat.
A successful Court size reduction occurred in 1866. Congress approved a drop from 10 justices to seven following the Civil War in an attempt to limit President Andrew Johnson's powers during Reconstruction.