Ben Shapiro Slams Olivia Rodrigo's Use of Lowercase Letters After Roe Rant
Conservative commentator Ben Shapiro recently criticized singer Olivia Rodrigo following her stage rant about the overturning of Roe v. Wade—and also slammed her for her use of lowercase letters in song titles.
On June 25, Rodrigo, 19, performed at England's Glastonbury festival, during which she spoke out against the recent U.S. Supreme Court decision to overturn Roe v. Wade, the 1973 landmark decision that had guaranteed abortion rights nationwide.
Joining forces with fellow singer Lily Allen, California native Rodrigo dedicated a rendition of the British musician's 2009 hit F*** You to the five judges who had ruled in favor of transferring abortion rights decisions to individual states.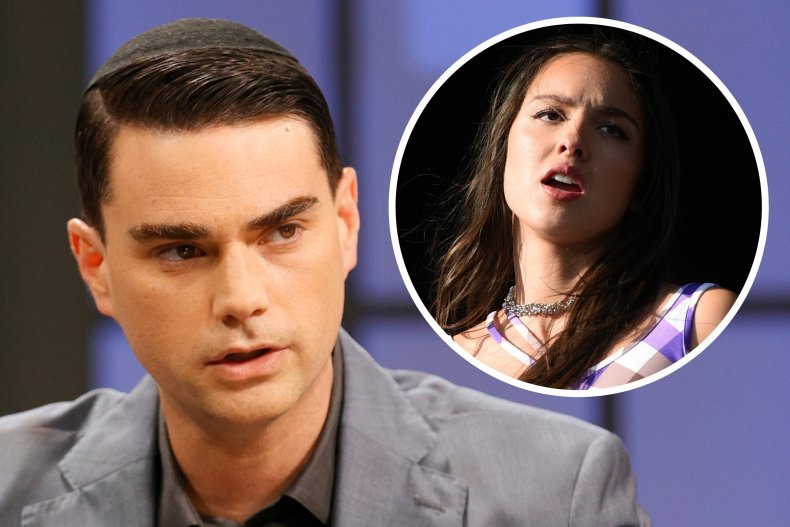 During Tuesday's episode of The Ben Shapiro Show, Shapiro expressed his displeasure regarding Rodrigo's gesture in a segment titled: Olivia Rodrigo Sounds Off On Something She Doesn't Understand.
"Speaking of our greatest policymakers, you have celebrity class coming out and being very upset," he said. "So Olivia Rodrigo who, I will admit I had not heard of until the last five minutes, because I'm not a teeny bopper. Olivia Rodrigo was with another person named Lily Allen. I will admit that I had not heard of Lily Allen either. In fact, I was mixing her up with Lily Tomlin when I was looking this up, but apparently they are both people who dress like 17-year-old teeny boppers and prance around while breathing heavily into microphones, recording songs that do not have capital letters in them."
After seemingly questioning Rodrigo's celebrity status, Shapiro then took aim at the way she styled her song titles, saying: "If you look at Olivia Rodrigo's song list, apparently she's like [poet] E. E. Cummings, all capital letters are forbidden."
Listing some of Rodrigo's song titles, he critiqued: "It's like favorite crime, no capital 'F' no capital 'C.' good 4 u, No capital 'G.' 'You' is spelled letter 'U' and 'for' is the number four."
"So, you know, brilliant expositors on the state of American law and the existential issue of when human life begins—Olivia Rodrigo and Lilly Allen," he continued. "They go to a concert where they prance around in two pieces and talk about how abortion is really, really, really, really important. And also F those justices, F them. Yes, we have great thinkers like Samuel Alito on the one side, and we have Olivia Rodrigo on the other."
After playing a clip of the Glastonbury performance in question, Shapiro concluded: "Well, I mean slow clap for the heroism involved in advocating for the killing of the unborn en masse by singing in front of people for money."
Before breaking into Allen's expletive-laden track Rodrigo gave an emotional speech to the crowd, saying women and girls will die as a result of the decision.
"This is actually my first Glastonbury and I'm sharing this stage with Lily, this is the biggest dream come true ever," she said. "But I'm also equally as heartbroken about what happened in America yesterday. I'm devastated and terrified. So many women and so many girls are going to die because of this."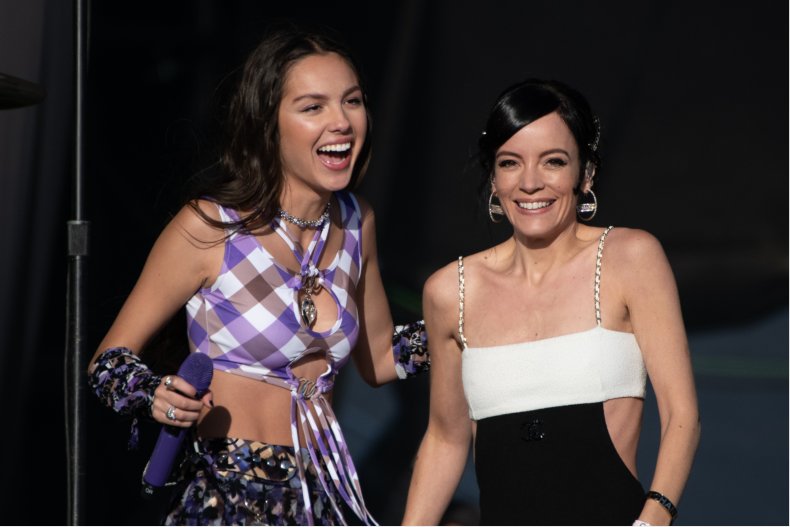 Rodrigo then dedicated the song to the five Supreme Court Justices who voted in favor of overturning Roe v. Wade—Samuel Alito, Clarence Thomas, Neil Gorsuch, Amy Coney Barrett, and Brett Kavanaugh.
John G. Roberts, Stephen Breyer, and Sonia Sotomayor, Elena Kagan, the other justices on the panel, voted to uphold Roe v. Wade.
"I wanted to dedicate this next song to the five members of the Supreme Court who have shown us that at the end of the day, they truly don't give a s*** about freedom," she said. "The song is for the justices: Samuel Alito, Clarence Thomas, Neil Gorsuch, Amy Coney Barrett, Brett Kavanaugh. We hate you! We hate you!"
Rodrigo and Allen join a host of celebrities who have spoken out about the overturning of Roe v. Wade—which could see a number of states outlawing abortion altogether. Some stars have also shared their personal abortion stories.
Newsweek has reached out to a representative of Rodrigo for comment.