GOP Voters Still Back Trump in 2024 Despite DeSantis Boost, Jan. 6 Evidence
Despite the explosive January 6 hearings and a boost in support for Florida Governor Ron DeSantis, former President Donald Trump remains the 2024 favorite among Republican voters.
A new poll by Morning Consult/Politico released on Wednesday found that Trump has maintained his position among GOP voters over the last month, with the majority saying he'd get their backing in a 2024 Republican presidential primary.
Support for Trump remained the same as it was earlier this month, at 53 percent, in the new survey, which was conducted between June 24 and 26. His steady rating suggests that the ongoing congressional hearings are doing little to dissuade Republicans from casting another ballot for the former president.
And even though support for DeSantis appears to be on the rise, Trump continues to hold a commanding lead over the governor's 22 percent—the best showing DeSantis has had yet. In the last month, DeSantis has seen a 6 percent increase in support and a 9 percent increase since March, according to Morning Consult/Politico.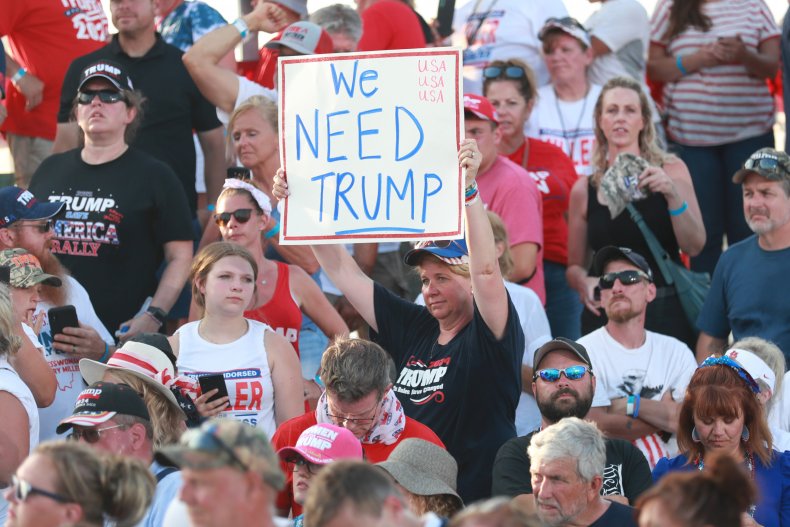 While many have seen the January 6 hearings as ammo for a successful DeSantis 2024 bid, Trump has been unfazed by the threat the governor would pose in a potential matchup. When asked about a possible faceoff for the party's nomination last week, the former president said he thinks he'd defeat DeSantis.
"I don't know if Ron is running, and I don't ask him," Trump told the New Yorker. "It's his prerogative. I think I would win."
Trump, who endorsed DeSantis in 2017 for Florida governor, has long taken credit for DeSantis' rise in the Republican Party. In the same interview, Trump said DeSantis "wouldn't have won" without his backing.
A 2024 matchup between Trump and DeSantis is also looking increasingly likely now that former Vice President Mike Pence has fallen in the polls. Wednesday's survey showed that support for Pence in 2024 has dropped from 13 percent in early June to 8 percent last week.
Although few Republicans have tuned into the January 6 hearings—roughly 15 percent say they have seen, read or heard "a lot" about them—the House panel's investigation has made its way into the peripherals of GOP voters, among whom Trump's favorability has dampened.
While the former president retains support for a 2024 run, the share of Republican voters who think Trump should play a "major role" in the party has dropped from 60 percent to 51 percent. Those voters are increasingly saying that he should either move to a minor role or have no role in the GOP at all, Morning Consult/Politico added.