The 5 Questions 'Stranger Things' Season 4 Part 2 Must Answer
Stranger Things Season 4 launched on Netflix on Friday, May 27, revealing the next chapter in the lives of Hawkins' residents.
The show's penultimate season has been split into two parts, with the second half consisting of just two episodes which will be released on Friday, July 1.
A number of questions are raised and left unanswered in the first half of Season 4. Here are the top ones that Part 2 needs to answer.
Warning: This article contains spoilers for 'Stranger Things' Season 4 Part 1.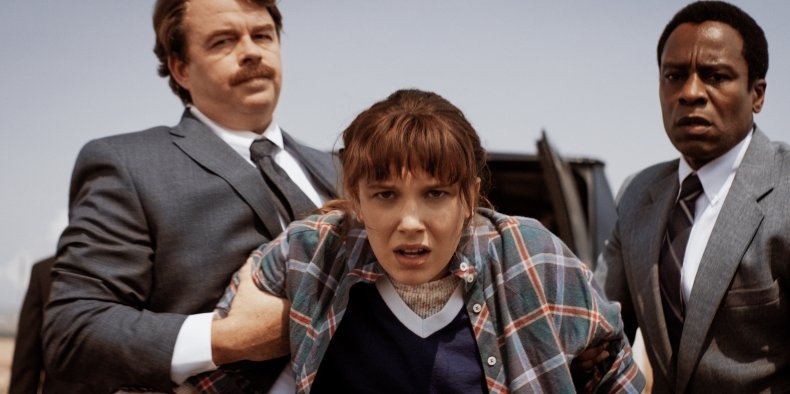 1. Will Eleven Get Her Powers Back?
The biggest question looming over Stranger Things Season 4 is whether or not Eleven (Millie Bobby Brown) can regain her powers.
Eleven lost her telekinetic abilities in Season 3 after going up against the Mind Flayer, and she is taken to a secret location in Nevada in the newest episodes to see if it's possible to reverse the damage.
Unfortunately for Eleven, the act requires her to work with her Papa, aka Dr. Martin Brenner (Matthew Modine), who is back from the dead and ready to put her back into a tank to relive her old memories.
Dr. Brenner hopes that Eleven's powers will be triggered by experiencing her past traumas once again, and she experiences the worst one of all in the finale.
Whether learning the truth about Vecna will help her get her powers back is yet to be seen, but this will likely be addressed in Part 2.
2. Are Nancy and Max Going to Die?
Brown joked in an interview with The Wrap that the cast of Stranger Things had grown too big, and they needed a Game of Thrones-esque cull to get rid of some of the characters.
Well, while what Brown said was intended as a joke, the two main contenders to be killed off in Season 4 appears to be Nancy Wheeler (Natalia Dyer) and Max Mayfield (Sadie Sink).
Both Max and Nancy have become targets of Vecna, with the latter being put into a trance by the monster at the very end of Season 4 Part 1.
Luckily for Max, Robin Buckley (Maya Hawke) figured out that music can help fend off the monster's hallucinations, but will it be possible to save Nancy the same way?
And, realistically, how long will Kate Bush's "Running Up That Hill" save Max for? These are some of the questions that should be addressed in Season 4 Part 2.
3. Can All the Portals to the Upside Down be Closed?
One interesting conundrum brought up in the first half of Season 4 is the fact that Vecna creates a portal to the Upside Down every time he kills his victims.
As far we we know, there are three portals to the Upside Down in Hawkins currently, but there may well be more that viewers don't know about.
Whether the closing of all these portals will be addressed in the final two episodes of Season 4 is unclear, because they may well pose a problem that continues all the way into the show's fifth, and final, season.
4. Will Eleven get to Hawkins in Time to Face Vecna?
So far, the gang in Hawkins have been trying to solve the mystery surrounding Vecna, and thanks to Dustin Henderson's (Gaten Matarazzo) ingenuity they have figured where he is and a way to escape the Upside Down.
The one issue they face is how to fight off the monster because in seasons past it has been mostly thanks to Eleven that they have been able to fight off the various creatures from the Upside Down.
If Eleven is able to get her powers back the question remains: Will she be able to get to Hawkins in time to save the day?
Given the precarious situation that the Hawkins crew are in at the end of the season they will have to think fast, because Eleven is not close enough to be of any assistance (yet).
5. Will Joyce and Murray Get Hopper Out of Prison?
By the finale of Part 1, Joyce Byers (Winona Ryder) and Murray Bauman (Brett Gelman) have finally made it to the Russian prison where Jim Hopper (David Harbour) has been held captive since Season 3.
The dynamic duo have successfully helped Hopper and Dimitri (Tom Wlaschiha) escape the Demagorgon that the Russians have kept, but the monster is still loose and could well cause problems for the quartet down the line.
Joyce, Murray, Hopper and Dimitri may have won the battle but they still need to fight the war, since they will now have to figure out a way to escape the prison's confines without getting killed.
This is certainly something that needs to be addressed by the end of Season 4.
Stranger Things Season 4 Part 1 is out on Netflix now.