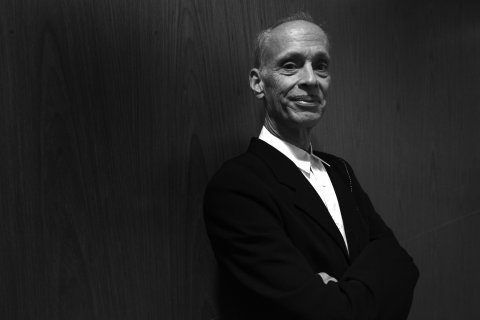 Over a fifty plus year career, director and writer John Waters' general creative approach has been very consistent. "I make fun of the rules," Waters tells Newsweek. "I'm making fun of the rules that I live in."
Since the outrageous rule breaking of his early camp/bad-taste masterpieces Pink Flamingos and Female Trouble through more mainstream success with the film and stage versions of Hairspray, Waters has specialized in taking bizarre, objectively repulsive characters and making them seem somehow not only normal but lovable.
SUBSCRIBE TO THE PARTING SHOT WITH H. ALAN SCOTT
ON APPLE PODCASTS OR SPOTIFY
Much like Waters himself. When Pink Flamingos came out 50 years ago, mainstream critics were appalled. In 2021 the National Film Registry added the film to the Library of Congress for being culturally significant. "It is the ultimate wonderful irony, but I accept it with great flattery," Water says.
"I love behavior I can't understand."
The latest member of Waters' gallery of sympathetic freaks, weirdos and sociopaths is Marsha Sprinkle, the suitcase-thief heroine of Water's debut novel Liarmouth: A Feel-Bad Romance, (Farrar, Straus Giroux, May). "Marsha is pretty hard to get to know," Waters says. "She has to always be one over you. She has to overload you, have power over you and dominate you. But I love behavior I can't understand."
"Marsha is always saying how can this be? Like, how could Uber drivers rate the customer? How could that be? So there's things that make Marsha insane that would not make other people insane.... she's very, very opinionated. And she's very strange. And she doesn't like art or music or anything because it takes away from her. And she hates her own body. She hates instinct. She hates anything she has to do. I resent that I have to take a shit every day. It's a disgusting thing that you have to do once a day and Marsha has eliminated that by only eating high wheat crackers."
See? Lovable.
"The world I set up in all my movies, the heroine or hero, it's usually who would be the villain in another movie."
"When I get to think up characters, I'm not those characters," Waters says, "but a little bit of me is in every one. When I'm writing the book, I play them in my mind, I am thinking like they think and to me that's like being a psychiatrist. It's like being a spy. It's like being a puppeteer.... I'm trying to make myself laugh first and then if I'm lucky enough other people do. Everything's reversed in my world. The world I set up in all my movies, the heroine or hero, it's usually who would be the villain in another movie. Except the right people win in my movies, although this one's a little more complicated. Does Marsha win? Is she the right person? That's debatable."
The inspiration for a book about someone who steals luggage came from Water's travels with his friend, Emmy-winning casting director Pat Moran. "We were in an airport going up the escalator leaving and this man comes chasing after us because she accidentally did pick-up the wrong suitcase.... they all do look alike. So that gave me the idea how easy it would be to do it. They don't check the tags anymore! Before 9/11 they always did. There was someone standing there when you walked away from the carousel that looked at your bag and checked the number on your thing."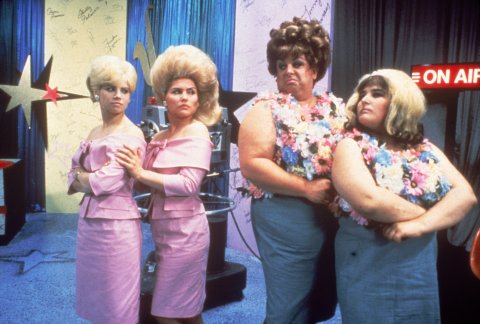 As for Marsha's complicated relationship with her partner Darrell, Waters says, "It's a lust story," adding that the root of her actions is a "ludicrous" sexual trauma. "She has a reason to act this horrible, actually, when you go back and it's finally revealed. And the person that makes her tell the truth tops her because he steals from her.... he does to her what she's been doing to everybody else. Maybe when you fall in love you meet your match?"
Waters says he finds writing books (Liarmouth is his eighth) "a little more freeing and liberating" than making motion pictures. "I didn't have to worry about the rating of the Motion Picture Association, I didn't have to worry about the budget and how much it costs to do a scene. I don't have to worry about the weather. I also can describe the feelings of the people without having to put it in words. You can describe 50 things that happened in one sentence. In a movie, you just have to say it because it goes by so quickly."
No matter how many books Waters writes, his films—he calls 1994's Serial Mom "my best movie"—will always define the public's perception of him. Born and raised in Baltimore, Maryland, after a short stint at New York University, Waters returned to Baltimore and began making short films with a troop of actors called the Dreamlanders, which included Waters regulars Edith Massey, Cookie Mueller, Mink Stole, David Lochary and the drag artist Divine.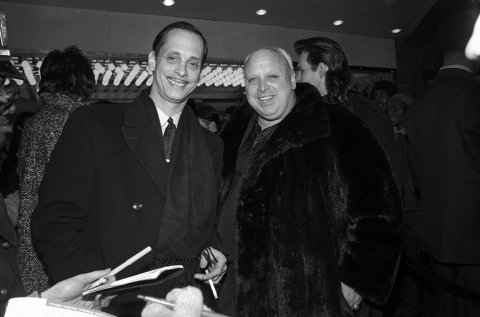 Fellini had Marcello Mastroianni; John Ford had John Wayne; John Waters had Divine. Thirtyfour years after Divine's sudden death from heart failure in 1988, just three weeks after the premiere of Hairspray, their most profitable collaboration—Divine is still close to Waters' heart. On the subject of luggage, for instance, he remembers, "Divine's suitcase used to [have fake breasts]. Even the hand luggage. They would open it and look through it and a big pair of giant fake tits jumping around and they slammed it shut so quick. He could have smuggled 50 loads of heroin in there, they weren't looking anymore. When they opened his suitcase and looked up at him, they didn't want to know what was in there"
Waters thinks his early films with Divine could still be released today, notwithstanding the heightened sensitivities of modern audiences. "It would be distributed in a completely different way and it would be seen in a completely different way. So it would be the opposite of everything, like how Pink Flamingos came out, going to one city at a time, opening at midnight one day a week. It took us two years to go around the country. Today we'll come out instantly on the arthouse circuit and if it didn't make money, it would be gone."
"In the 1950s I would be arrested for this book. I would go to jail for this book."
Waters says the world in some ways seems to have caught up with him, "This book, no matter what you think of it, hate it or love it, in the 1950s I would be arrested for this book. I would go to jail for this book. It's so amazing to see that it's the opposite today. ... Criterion is putting out Pink Flamingos. Multiple Maniacs showed on HBO Max. How could that be?"
While Waters mocks current cultural values almost as sharply as he did the old ones, he does think the moral climate has generally improved since he started out.
"I think most of the politically correct stuff is right to a point, but the way they go about it is they don't make fun of themselves. The one thing this generation is missing, if you make fun of yourself, and I always did, even this book is called a feel bad romance. I'm making fun of writing a novel, even though I'm very serious about it."
Listen to H. Alan Scott's full conversation with H. Alan Scott on Newsweek's Parting Shot. Available on Apple Podcasts and Spotify. Twitter: @HAlanScott