July 4th Travel Updates: Over 4,500 Flights Delayed As Weekend Begins
Travelers are advised to pack their patience as they set out for the July 4th holiday weekend.
One of the biggest travel days of the year arrived as flight cancellations at the end of June already exceeded 2021 totals. More than 4,500 U.S. domestic and international flights were delayed Friday as the holiday weekend kicked off, according to FlightAware data.
Pilots from major airlines protested at several airports across the country amid contract negotiations.
AAA predicts that 42 million drivers will hit the road this weekend, despite record-high gas prices. Heavy traffic was expected Friday.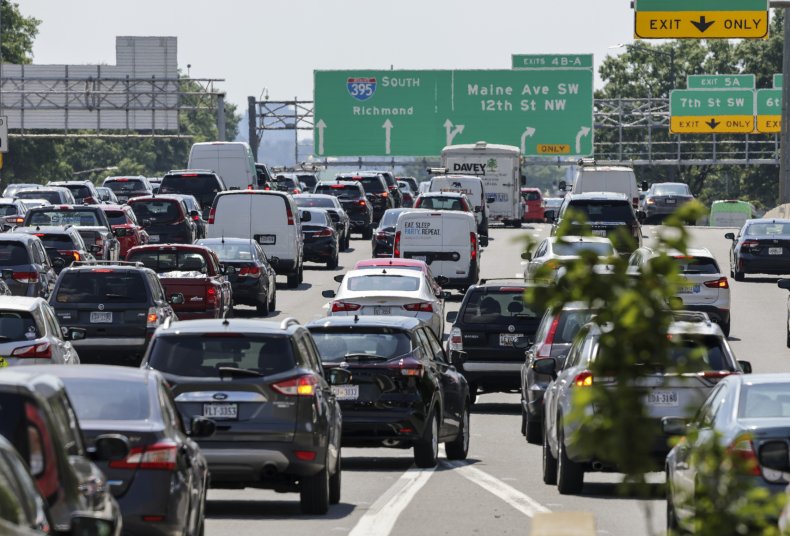 Live Updates Have Ended.
Over 4,500 Flights Delayed As Weekend Begins
More than 4,500 flights traveling within, departing from and arriving in the U.S. were delayed at the start of the July 4 holiday weekend, according to the flight tracking website FlightAware.
As of Friday shortly before 5 p.m. ET, FlightAware estimated 4,534 flights had been delayed. An additional 424 flights traveling within, traveling to or departing the U.S. had been canceled.
Internationally, more than 23,000 flights were delayed on Friday and more than 2,600 were canceled.
Flight cancellations have been on the rise in the U.S. this year. According to data FlightAware provided to Newsweek, the number of canceled flights in the first half of 2022 has already exceeded the total number of flight cancellations reported in 2021.
The number of canceled flights on Friday alone exceeded the number reported during the final week in June. According to a FlightAware data set, 3,178 U.S. domestic and international flights were canceled between June 24 and 30, while about 24 percent of all U.S. domestic and international flights—25,547 in total—were delayed.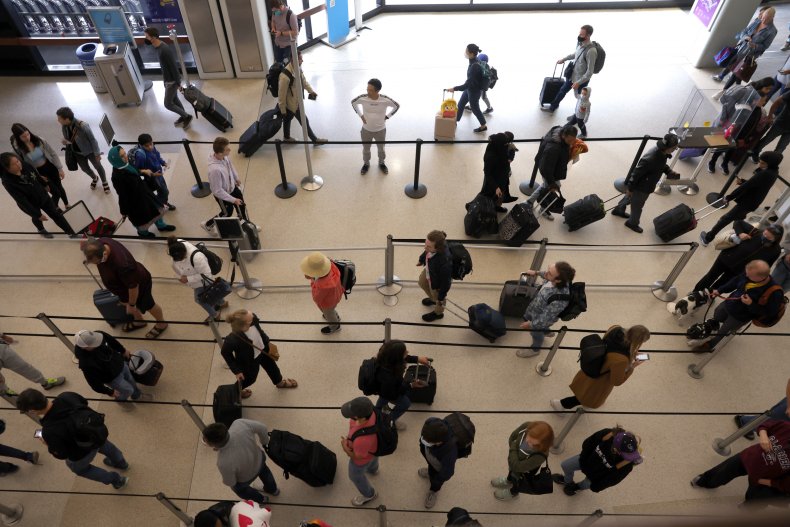 Florida Airport Traffic to Peak Saturday
Airlines across the country are carrying the highest number of passengers since before the pandemic.
Florida is experiencing an especially large increase in airport traffic since early 2020.
According to the Federal Aviation Administration (FAA), Florida is experiencing 150 to 170 percent higher traffic at some airports.
While the number of flights will peak today across much of the country, Florida will experience a peak on Saturday.
The FAA estimates that Florida will see 4,072 Saturday, July 2. That is up from the 3,835 flights expected Friday.
TSA Warns Passengers Not to Pack Fireworks
The TSA reminded passengers this week to leave fireworks and similar items used to celebrate July 4th at home while traveling for the holiday weekend.
The federal agency on Friday shared a photo on Twitter of some contraband items that agents found inside a passenger's suitcase at Syracuse Hancock International Airport in New York.
"Don't be like this passenger," the TSA's tweet said. "Leave your bottle rockets, fountains and sparklers at home. FIREWORKS of any kind, are not allowed in carry-on or checked bags."
The tweet ended by encouraging passengers to review the list of items the TSA does not permit on planes.
The TSA has said screenings could match or exceed pre-pandemic levels over the July 4th holiday weekend, with TSA Administrator David Pekoske predicting Friday and Sunday will be the busiest travel days of the weekend.
During a Friday morning appearance on the Today show, Pekoske said travelers across the country "can have faith that we're going to keep our wait time standards to where they need to be" when asked about the TSA's preparation for elevated travel volumes. Flight delays and cancellations have frustrated many passengers in recent weeks, raising concerns about potential disruptions to travel over the holiday weekend.
Lisa Farbstein, a TSA spokesperson, acknowledged the anticipated uptick in air travel in a June 30 tweet that, like the TSA's Friday tweet, warned passengers against packing "sparklers, fireworks, firecrackers, bottle rockets or other items of a similar nature" for flight travel.
"They are prohibited in carry-on and checked bags because they are flammable," Farbstein said.
French Airport Workers Protest Disrupts Travel
French airport workers are on strike, demanding higher pay and more staffing.
The protests at Charles de Gaulle and Orly airports in Paris caused delays and cancellations.
France's civil aviation authority said 17 percent of scheduled flights out of the two airports were canceled between 7 a.m. and 2 p.m Friday.
Hundreds of workers wearing union vests blocked the roads approaching Charles de Gaulle Friday. Travelers had to carry their luggage around the demonstration up to the terminals and faced long lines and delays at check-in and security once inside. Protests were also held at Orly.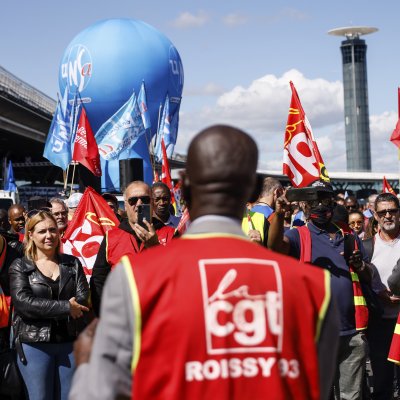 Airport workers are asking for higher salaries to reflect rising inflation. While workers are seeking a six percent raise, management is proposing three percent, according to French media reports.
Workers are also asking for an emergency recruitment plan to increase airport staffing back up to pre-pandemic levels to accommodate the surge in travel.
During the pandemic, airlines and airports cut jobs as travel virtually shut down amid COVID-19 restrictions. Now, they are struggling to keep up with the increase in demand.
"Airport activity has reached 95 percent of its pre-COVID level, except that now we have 20,000 employees less at the Roissy (Charles de Gaulle) airport, so working conditions deteriorated dramatically," Nicolas Pereira, a striking airport worker with the CGT union, told the Associated Press. "Those responsible are the various bosses who hurried to lay off workers during the COVID period to reduce the cost of labor."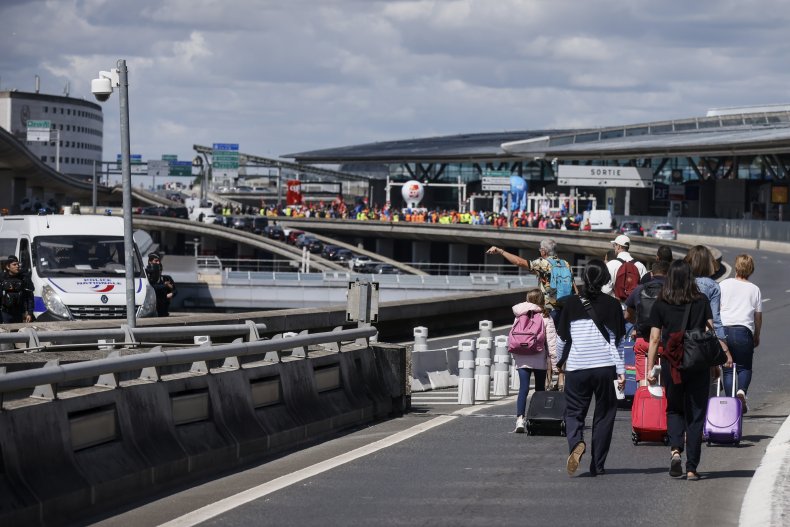 Mishandled Baggage Reports Rise in 2022
The rate of baggage mishandling in the U.S. has increased in 2022 compared with numbers reported last year, according to data from the U.S. Department of Transportation.
Peter Drummond, the head of baggage at the airline IT specialist company SITA, told Newsweek the airline industry is "seeing the mishandled rate creep up again" after that rate dropped during the coronavirus pandemic.
For anyone wondering about the status of their baggage when flying this weekend, Newsweek Data Editor Rob Minto writes the latest statistics are hard to come by.
The latest Department of Transportation figures show that for the month of April 2022, 5.5 bags per 1,000 were mishandled, up from 3.3 bags per 1,000 in April 2021.
These figures align with industry bodies. According to SITA, in 2021 in North America, the rate of mishandled bags per passenger was 5.07 per 1,000. This was slightly better than Europe, which had 5.71 per 1,000, but Asia was far better with just 0.92 bags per 1,000 passengers.
Comparisons between 2021 and 2020 are misleading, given the scale of disruption caused by COVID-19. A more useful comparison is 2019, which had 5.82 mishandled bags per 1,000 passengers in North America, according to SITA. This is slightly worse than the 2021 figure of 5.07 per 1,000.
There are reports of large piles of unclaimed baggage in the U.K. and Canada in recent weeks, but the most recent data shows that the U.S. situation is roughly in line with other years. That doesn't mean that there won't be problems over the 4th July weekend, though. Just that we can't say it's worse than other years (yet).
"What is clear is that airlines, ground handlers, and airports have downsized considerably to maintain viability over the pandemic, and this has affected the amount of resources and expertise dedicated to baggage management," Drummond said. "In this year's report we are seeing the mishandled rate creep up again, and the concern is that, unaddressed, this rate may end up being much higher than it was pre-pandemic."
Weekend Travel Exceeds Pre-Pandemic Numbers
Crowds at airports this weekend have already exceeded pre-pandemic levels.
The Transportation Security Administration (TSA) screened more than 2.4 million travelers at airport checkpoints on Thursday. That is 17 percent more than on the same Friday before the Fourth of July in 2019.
TSA Administrator David Pekoske told NBC's "Today" show that they expect Friday and Sunday "will be very busy."
While AAA predicts nearly 48 million people will travel at least 50 miles from home this weekend, the total number of people traveling on airplanes has not returned to pre-pandemic levels.
TSA screened 11 percent fewer people in June than it did in the same month of 2019, the Associated Press reported.
Thursday was only the 11th time since the pandemic began that TSA checked more people than it did on the same day in 2019.
Georgia Extends Gas Tax Suspension
Georgia will extend the state's gas tax exemption through the summer.
Governor Brian Kemp issued an executive order Friday to suspend the tax on motor fuel sales until August 13.
"I am committed to fighting to ease the economic burden hardworking Georgians are facing due to disastrous policies from Washington politicians," Kemp said in a statement.
He also announced that he is suspending locomotive fuel tax "to help fight rising costs that are being passed on to consumers." The state's supply chain state of emergency was also suspended.
Kemp issued the initial action to suspend the gas tax in March to help those impacted by the rising prices at the pump.
The Republican governor was critical of President Joe Biden and other Democrats for not doing enough to fight high inflation.
"Unfortunately, President Biden and Democratic leaders have not done their part to tackle this issue, instead calling on Americans facing record-high inflation to live more frugally," Kemp said.
Delta Reportedly Offers Passengers 10K to Give up Seats
Delta Air Lines reportedly offered to pay some passengers $10,000 to surrender their seats on a recent flight that was overbooked.
According to a report published by Inc., tech columnist Jason Aten was traveling with his family when Delta made the offer. Aten tweeted earlier this week that the flight was to travel from the Gerald R. Ford International Airport in Michigan to the Minneapolis-Saint Paul International Airport in Minnesota.
Aten wrote that he and his family were seated on a plane waiting for their flight to depart when the airline told the cabin the flight had been oversold. Airline personnel asked if eight passengers would be willing to relinquish their seats on the flight.
The airline then reportedly offered willing volunteers $10,000 for their seats.
"Ten. Thousand. Dollars," Aten wrote of the experience in a June 27 tweet.
Aten said one flight attendant told the passengers they would receive the money "right now" if they used Apple Pay.
The Inc. writer said he and his family ultimately did not volunteer to give up their seats.
Gas Tax Increases in California
Gas taxes increased in California ahead of the July 4th holiday weekend.
The excise tax increase occurs every year on July 1, as the state enters a new fiscal year. This year's increase means people in California will now pay 53.9 cents in excise taxes per gallon, a 2.8 cents-per-gallon increase over the excise taxes collected during the last fiscal year.
California's excise tax is the second-highest in the nation behind that of Pennsylvania, according to The Los Angeles Times. California typically has the highest statewide average gas prices in the U.S. due to state taxes and emissions regulations.
Gas prices in California and across the U.S. have reached record highs over the last few months in the wake of Russia's war with Ukraine, which has put a strain on the global energy market. While gas prices have dropped in recent days, data from the American Automobile Association (AAA) showed the nationwide average cost of a gallon of regular unleaded gas was $4.84 on Friday.
California was the only state in the country with average gas prices above $6. The statewide average on Friday was $6.27 per gallon, according to AAA.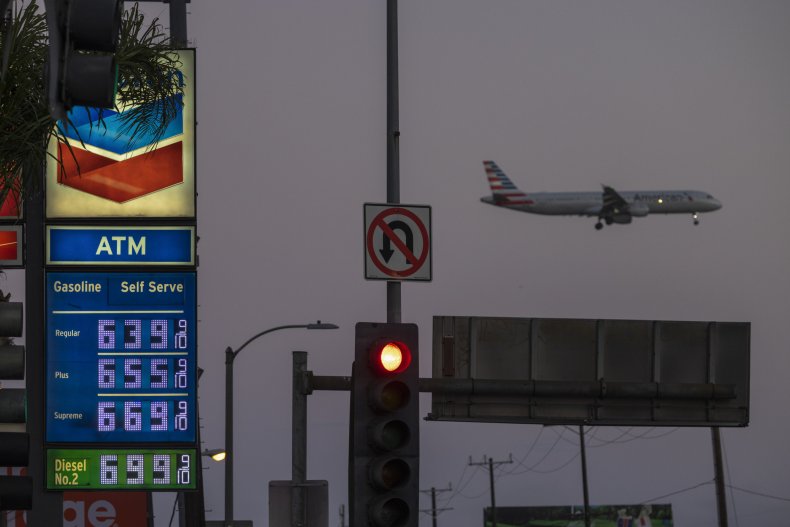 States With Highest, Lowest Gas Prices
Tens of millions of people are expected to travel by car for the Fourth of July.
This busy travel weekend comes as gas prices have spiked across the country. According to AAA, the national average cost of gas is $4.84 a gallon. AAA has also calculated the average daily price of gas in each state.
These are the states with the highest gas prices:
California
Regular: $6.27
Mid-Grade: $6.49
Premium: $6.62
Hawaii
Regular: $5.61
Mid-Grade: $5.82
Premium: $6.06
Alaska
Regular: $5.57
Mid-Grade: $5.78
Premium: $5.95
Nevada
Regular: $5.56
Mid-Grade: $5.79
Premium: $5.99
Oregon
Regular: $5.49
Mid-Grade: $5.69
Premium: $5.89
These states have the lowest gas prices in the country:
Georgia
Regular: $4.35
Mid-Grade: $4.75
Premium: $5.10
South Carolina
Regular: $4.36
Mid-Grade: $4.73
Premium: $5.05
Mississippi
Regular: $4.37
Mid-Grade: $4.71
Premium: $5.05
Arkansas
Regular: $4.40
Mid-Grade: $4.75
Premium: $5.07
Louisiana
Regular: $4.40
Mid-Grade: $4.76
Premium: $5.08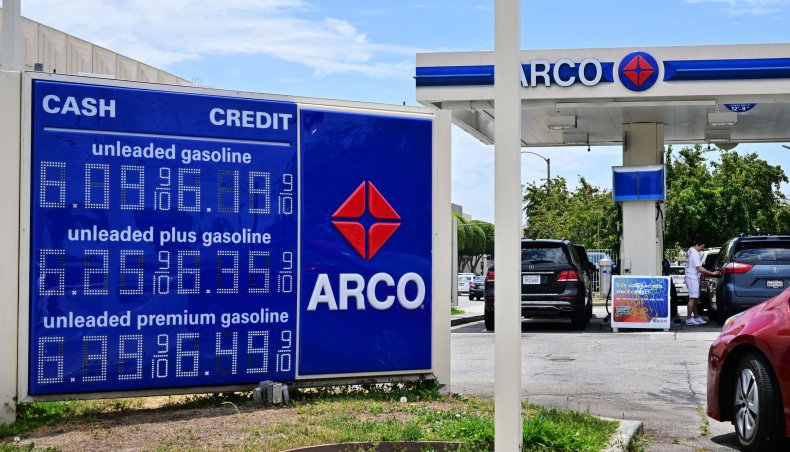 Lawmakers Want Airlines Fined for Cancellations
Some lawmakers are calling for airlines to be fined amid a surge in flight cancellations that is frustrating travelers across the country.
A handful of U.S. Senators spoke out against this year's rise in flight cancellations in the days leading up to the July 4th weekend, when travel is expected to surge.
Earlier this week, Vermont Sen. Bernie Sanders said Americans "are sick of airlines ripping them off, canceling flights at the last minute and delaying flights for hours on end."
Sanders called upon Secretary of Transportation Pete Buttigieg to fine airlines $55,000 "per passenger for every flight cancellation they know can't be fully staffed."
John Fetterman, the Lieutenant Governor of Pennsylvania who is running to represent his state in the U.S. Senate, called upon the Department of Transportation to fine airlines $27,500 per passenger for canceled flights.
Other lawmakers are asking airlines to identify and address the underlying issues causing flight cancellations. In a joint letter to 10 major airlines earlier this week, Sen. Ed Markey of Massachusetts and Sen. Richard Blumenthal of Connecticut encouraged the airlines to "address flight cancellations and delays as July Fourth holiday weekend nears." The letter also asked the airlines to send information on cancellations during recent holiday weekends by July 20.
Markey reiterated his concern about flight cancellations in a Friday tweet.
"As the Fourth of July weekend approaches, the reliability of the air travel system is paramount," he wrote. "Airlines need to act now, prioritize their passengers, and address schedule issues without delay."
Best and Worst Times to Hit the Road this Weekend
Car travel will set a new record this weekend, despite high gas prices.
AAA predicts 42 million people will hit the road July 4th weekend, setting a new travel record. Last year, 41.8 million people traveled by car.
"The volume of travelers we expect to see over Independence Day is a definite sign that summer travel is kicking into high gear," Senior Vice President of AAA Travel Paula Twidale said. "Earlier this year, we started seeing the demand for travel increase and it's not tapering off. People are ready for a break and despite things costing more, they are finding ways to still take that much needed vacation."
Independence Day will be the second busiest travel day since 2000, according to AAA. About 48 million people are expected to travel this weekend.
AAA says drivers should expect Thursday, June 30 and Friday, July 1 to be the longest travel days. Expects advise avoiding travel those days.
The best time to travel Friday is before 10 a.m. and after 9 p.m., according to AAA. The worst time to hit the road is between noon and 9 p.m.
On Saturday, the AAA advises people travel before 12 p.m. and after 7 p.m.. Between 2 p.m. and 4 p.m. will be the worst time to travel Saturday.
Sunday and Monday are expected to have "low congestion" all day.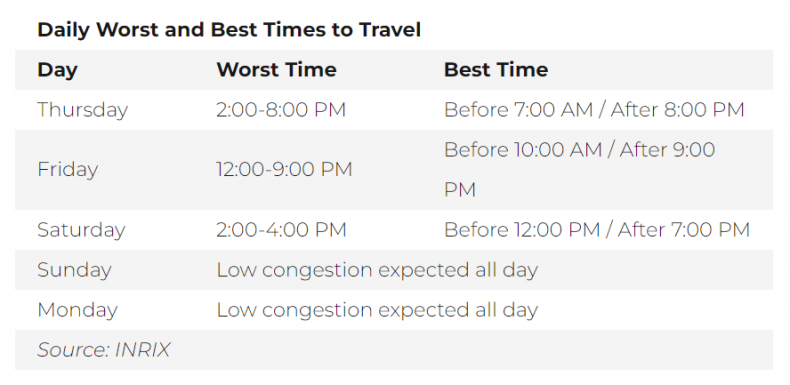 Pilots Stage Protests at Major Airports
Hundreds of pilots are protesting at airports ahead of the July 4th weekend.
Off-duty pilots are picketing at major travel hubs across the country, protesting tiring labor conditions and demanding pay increases.
Delta Air Lines pilots are hitting the picket line to "protest protracted contract negotiations," the Allied Pilots Association—a union based in Fort Worth, Texas—said in a press release on Monday. The union said Delta pilots are working under contracts and pay rates that have not been updated in six years.
Protests were held at airports in Atlanta, Detroit, Los Angeles, Minneapolis, New York, Seattle and Salt Lake City.
Delta Airlines canceled more flights over Memorial Day weekend than any other major airline, Captain Jason Ambrosi, Chairman of the Delta Master Executive Council (MEC), a unit of the Air Line Pilots Association, said in a statement.
"We're now going into the Independence Day Holiday weekend and are concerned that our customers' plans will be disrupted once again," Ambrosi said. "The perfect storm is occurring."
With demand back and pilots flying record amounts of overtime, Ambrosi said customers are still being "stranded" and having "their holiday plans ruined."
"Unfortunately, these problems have not led to any greater urgency from management to resolve our issues at the negotiating table," he said.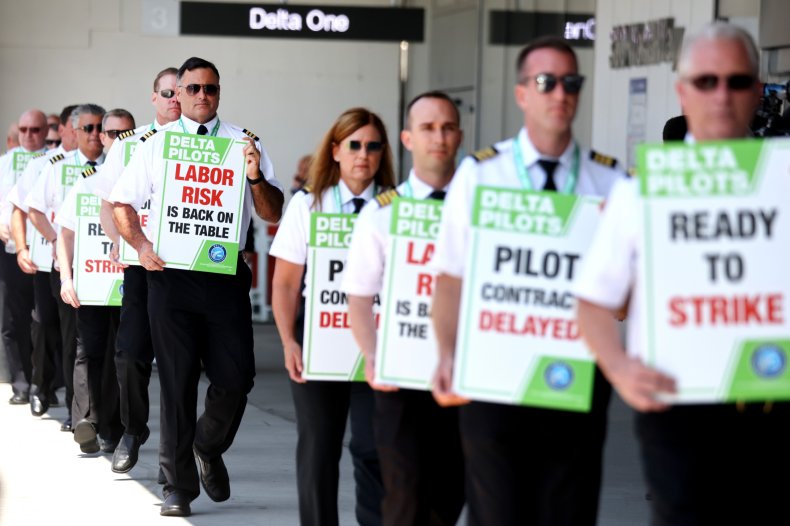 Nearly 2,000 Flights Canceled
Hundreds of flights have been canceled ahead of the holiday weekend.
Nearly 2,000 have been canceled today, according to FlightAware.
There have been 1,994 total cancellations Friday, with 236 cancellations within, into or out of the United States, as of 10 a.m. ET. There are also over 13,000 total delays reported.
Thursday saw 2,664 total cancellations, with 471 within, into or out of the U.S.
Delta and American Airlines were among the 10 airlines with the highest number of cancellations and delays worldwide.
FlightAware also published a "Misery Map," showing the number of canceled and delayed flights at major U.S. airports.
New York's JFK, Boston's Logan International Airport, Chicago's O'Hare International Airport, Charlotte/Douglas International Airport and Atlanta's Hartsfield-Jackson Atlanta International Airport are suffering the greatest numbers of cancellations and delays.