Kyrsten Sinema Kills Filibuster Plan After Pledge to Work on Abortion
Democrats seeking to preserve abortion rights following last week's Supreme Court overturn of Roe v. Wade may face an even more uphill battle as Arizona Senator Kyrsten Sinema has reportedly nixed the idea of reforming the filibuster.
President Joe Biden said on Wednesday that he supported the idea of changing the Senate filibuster for the purpose of codifying Roe v. Wade. The partisan split in the Senate makes a 60-vote threshold practically impossible for Democrats to do so.
"I believe we have to codify Roe v. Wade into law. And the way to do that is to make sure Congress votes to do that," Biden said during a press conference at the NATO summit in Madrid. "And if the filibuster gets in the way, it's like voting rights, it should be—we provide an exception for this, should require an exception to the filibuster for this action, to deal with the Supreme Court decision."
CNN's Ana Cabrera tweeted on Thursday that Sinema's office said the senator "is still opposed to gutting the filibuster on any topic including on reproductive rights."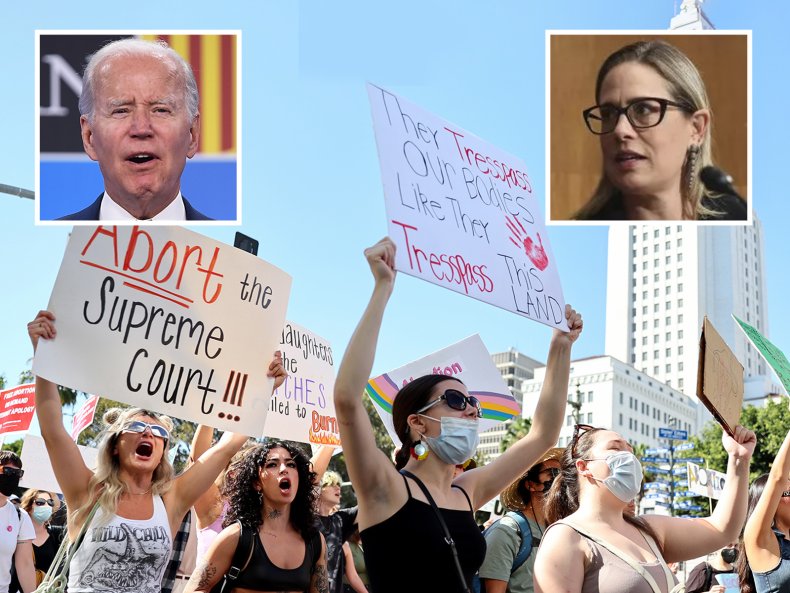 Sinema spokesperson Pablo Sierra-Carmona referred Newsweek to an op-ed the senator wrote for The Washington Post in June 2021 titled, "We have more to lose than gain by ending the filibuster."
"I understand bipartisanship seems outdated to many pundits...I still believe it is the best way to identify realistic solutions–instead of escalating all-or-nothing political battles that result in no action, or in whipsawing federal policy reversals," Sinema wrote at the time.
One specific quote from the op-ed highlighted by Sierra-Carmona reads, "To those who want to eliminate the legislative filibuster to expand health-care access...would it be good for our country if we did, only to later see that legislation replaced by legislation...defunding women's reproductive health services?"
Following the overturning of Roe v. Wade on Friday, Sinema pledged to continue to work to protect women's access to healthcare and their ability to make decisions for themselves.
"A woman's health care choices should be between her, her family and her doctor," Sinema said in a statement that day. "Today's decision overturning Roe v. Wade endangers the health and well-being of women in Arizona and across America."
Sinema's office also alluded to past successful Senate votes where the "60-vote threshold has been used to protect abortion rights and women's health care services including."
One specific instance included a 53-44 vote on February 25, 2020, when cloture was defeated by Democrats on the motion to proceed with Senate Bill 3275. Introduced by Republican Senator Lindsey Graham, the bill if successful would have established a new criminal offense for performing or attempting to perform an abortion if the probable post-fertilization age of the fetus is 20 weeks or more.
In 2005, Senate Bill 403 introduced the Child Interstate Abortion Notification Act, which would have amended federal criminal code prohibiting the transport of a minor child across state lines for the purpose of getting an abortion. That was a 57-42 vote.
House Speaker Nancy Pelosi mentioned in a Monday letter to her caucus how bills have previously been introduced to "codify freedoms which Americans currently enjoy," including abortion rights and same-sex marriage–the latter of which was mentioned by Supreme Court Justice Clarence Thomas in his written Roe v. Wade opinion.