Liz Cheney and Trump-Backed Challenger Clash at Wyoming GOP Debate
False claims about the 2020 presidential election and the House select committee's January 6 investigation featured prominently during the Republican Wyoming primary debate as Representative Liz Cheney faced off against four challengers, including the Donald Trump-backed Harriet Hageman.
The debate, hosted by Wyoming PBS, saw Cheney, Hageman, Robyn Belinskey, Senator Anthony Bouchard and Denton Knapp discuss a number of issues ahead of the August 16 primary, including how to deal with rising inflation and infrastructure development.
However, it was the 2020 election and the House select committee's investigation into the riot at the U.S. Capitol, of which Cheney is a vice chair, that dominated proceedings.
Cheney, who is fighting for her political future after being censured by the Republican National Committee and the Wyoming GOP voting to no longer recognize her as part of the party due to her role on the January 6 panel and criticism of Trump, fought accusations from Hageman that the panel was not relevant to the people of Wyoming.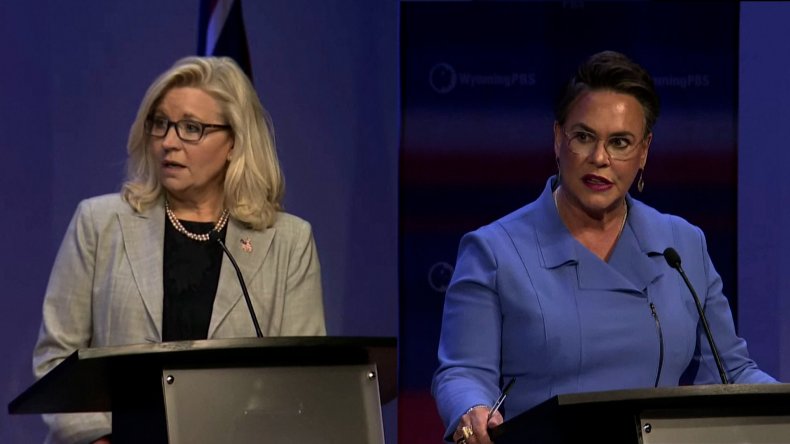 "We have a committee in Congress right now, they're focusing on something that happened 18 months ago," Hageman said. "They're not focusing on the issues that are important to the people in Wyoming and they're also ignoring the corruption that is absolutely destroying Washington D.C. and as a result taking down the rest of the country."
Cheney, one of just two Republicans on the January 6 committee, defended her role on the panel and continued her attacks on Hageman and former President Trump.
"There's a real tragedy that's occurring, and the tragedy is that there are politicians in this country, beginning with Donald Trump, who have lied to the American people and people have been betrayed," Cheney said. "He consistently has said that the election was stolen when it wasn't."
Cheney also noted how former Trump campaign manager Bill Stepien, who is now an advisor to Hageman's campaign, testified to the January 6 panel that Trump had no basis to declare himself the winner on Election Night in November 2020 before all the votes had been counted.
"I'd be interested to know whether or not my opponent Miss Hagemann is willing to say here tonight that the election was not stolen," Cheney said. "She knows it wasn't stolen. I think that she can't say that it wasn't stolen because she's completely beholden to Donald Trump."
Cheney again urged Hageman to admit she supports Trump's false claim about the 2020 election elsewhere during the debate.
"Hageman is standing up here claiming that the election was stolen or that there was fraud that was sufficient to overturn the election," Cheney said. "She ought to say it. Otherwise, she needs to stop making claims that are not true and she ought to tell the people of Wyoming the truth."
While Hageman did not directly say she believed that the last election was stolen from Trump by voter fraud—an unfounded accusation that has been debunked multiple times—she did say she shared "concerns" about its legitimacy that other Americans have.
Hageman referenced highly disputed claims about the use of drop boxes made in the conspiracy theory-riddled documentary, 2,000 Mules, created by right-wing political commentator Dinesh D'Souza, as a "great concern."
According to an internal poll from a pro-Hageman group released in June, the Trump-backed candidate has the support of 56 percent of voters, compared to 28 percent who said they would back Cheney.
Cheney has managed to raise millions more dollars than Hageman during her re-election campaign. However, a significant amount of the money is coming from out of state and from those who cannot vote for her.
The debate on Thursday was not open to the public after one of the candidates received death threats, according to Wyoming PBS.