Liz Cheney at Risk of Losing Her Seat in Congress
Representative Liz Cheney, a rare member of the Republican party who has been critical of Donald Trump, is at risk of losing her seat in Congress to Harriet Hageman, who has been endorsed by the former president.
Cheney, a Wyoming Republican first elected in 2016, has earned praise as a maverick unafraid of defying her party for her role on the House select committee investigating the events of January 6, when a mob of Trump supporters, motivated by unfounded claims of widespread voter fraud, rioted at the U.S. Capitol to pressure Congress against certifying the 2020 presidential results.
But back home in Wyoming, Cheney's role on the committee and vote to impeach former President Donald Trump has angered the conservative voters who dominate the deeply conservative state, where Trump secured nearly 70 percent of the vote in 2020.
Ahead of the August primary, polling on the race remains limited, but one survey released last week found Cheney trailing her top opponent Hageman by 28 points.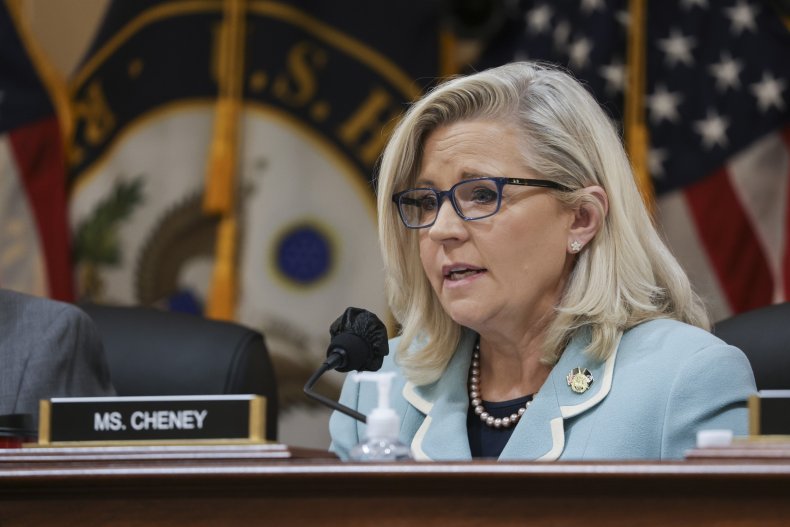 Hageman led with 56 percent of voters saying they plan to support her—while only 28 percent of respondents said they planned to back Cheney in the August primary, the poll conducted by the Hageman-aligned Wyoming Values super PAC found. It's largely in line with other polls, which have indicated Cheney is facing a challenging reelection bid.
Cheney emerged as one of the most vocal Trump critics within the GOP following January 6 and has blasted claims that he only lost in 2020 due to widespread voter fraud.
She has done so while still maintaining a staunchly conservative voting record in Congress—she voted with Trump more than 90 percent of the time during his tenure. but her rebuke of Trump may cost her the seat in a race viewed as a test of Trump's grip on the party.
"I say this to my Republican colleagues who are defending the indefensible. There will come a day when Donald Trump is gone, but your dishonor will remain," Cheney said during a televised hearing last Thursday.
When it comes to fundraising, Cheney has raised more money than any of her opponents so far. But much of the money her campaign has raised comes from out-of-state donors.
Cheney raised more than $10 million for her reelection campaign by the end of March, while Hageman raised just more than $2 million, according to the Federal Election Commission (FEC).
But Hageman has raised more money from individual contributors who live in Wyoming, according to the FEC. Hageman has raised $543,094, while Cheney has raised $255,336 from Wyoming residents—another indicator that Hageman could potentially have the voter support to defeat Cheney in the primary.
Last November, the Wyoming GOP voted to no longer recognize Cheney as a Republican, a symbolic gesture indicating the dissatisfaction she faces from some of her constituents as she hopes to be reelected to a fourth term in Congress. In May, House Republicans voted to oust her from her leadership role as the party's conference chair over her criticism of Trump.
Newsweek reached out to the Cheney campaign for comment.