Manchin, Sinema Critics Say GOP Will End Filibuster Anyway to Ban Abortion
Opponents of the Senate filibuster are brushing off the concerns of a pair of Democratic moderates in favor of the procedure, saying Republicans will one day remove the legislative roadblock to pass national abortion restrictions.
President Joe Biden conceded on Friday that Senate Democrats didn't have support in their own ranks to overcome a filibuster to protect abortion rights. With the Senate evenly divided, Senators Joe Manchin of West Virginia and Kyrsten Sinema of Arizona, two centrist Democrats, have rankled the party's base by opposing carve-outs for the procedure on voting rights and other issues. Both have opposed weakening the filibuster, arguing that keeping it in place would provide a check on a future Republican-led Senate.
The Supreme Court's blockbuster decision last week undoing the constitutional protection of abortion has brought new urgency to the debate over the filibuster, with some saying Senate Democrats should do away with it while they still can.
Manchin and Sinema have signaled they remained opposed to altering the filibuster to pass legislation enshrining abortion rights. In May, Manchin voted with all 50 Senate Republicans against legislation codifying abortion rights, saying the measure was too expansive.
Writer Bryan Behar in a tweet said Manchin and Sinema have argued for keeping the filibuster in the name of "tradition" and "bipartisanship."
"Yet we all know damn well that the second the GOP controls the Senate, they will gut the filibuster and pass a National Abortion Ban," Behar said.
David Hogg, founder of gun control advocacy group March for Our Lives, took an even more dire tone in a follow-up tweet, saying, "Either all Democratic leaders change their strategy substantially and stop offering bulls**t insanely tone deaf platitudes and start calling for expansion of the court and abolishing the filibuster or we stand a double digit chance of losing our republic."
An arcane Senate procedure, the filibuster requires at least 60 votes for most legislation to advance in the Senate. The filibuster has been a growing source of frustration for Biden and congressional Democrats who have watched Republicans use the procedure to stymie much of their agenda.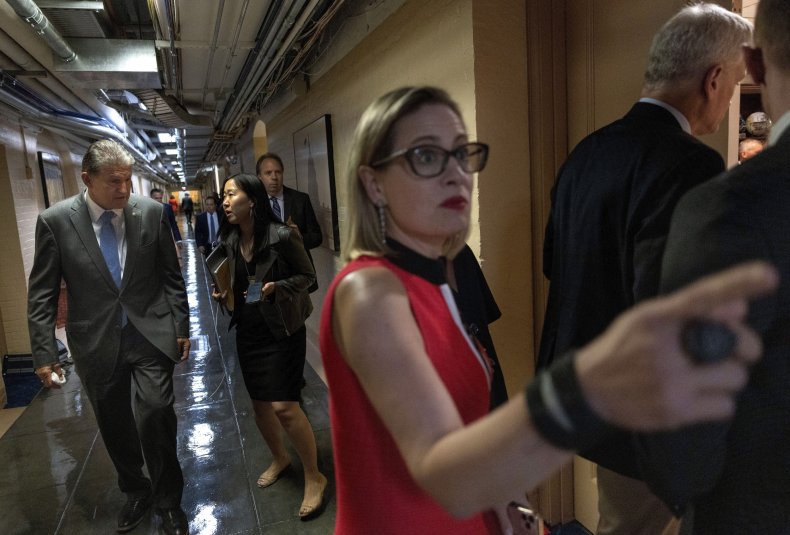 In libertarian-leaning magazine Reason, Eric Boehm wrote that in 2013, then-Senate Majority Leader Harry Reid abolished the filibuster for judicial nominees to allow then-President Barack Obama to more easily appoint judges. However, he wrote that after Republicans retook the Senate and White House to stack the federal judiciary with their picks.
"Having apparently learned nothing from this experience, prominent Democrats including President Joe Biden are once again endorsing changes to the filibuster—changes which, if approved, would probably open the door to a future Republican-controlled Congress banning abortion nationwide," wrote Boehm.
"If the Democrats don't abolish the filibuster, the Republicans will, and they'll ban abortion," Dan Kennedy, a professor of journalism at Northeastern University's School of Journalism, argued in a tweet in response to the article. "No way-clearing necessary."
In another tweet, Hogg agreed: "If you don't think Republicans are going to get rid of the filibuster the second they are in power in order to establish a nationwide abortion ban and more—you need to pull your head out of the sand."
Fox News' Neil Cavuto on Friday asked Republican Senator Chuck Grassley if the filibuster wasn't already on its way out. Grassley said the filibuster was needed for bipartisan cooperation and that Democrats will regret weakening the procedure if they are in the minority after the next election.
"If you start doing it just for abortion, that's a slippery slope and pretty soon you're not going to have a 60-vote requirement at all and everything's going to be partisan," he responded.
Newsweek has reached out to Manchin and Sinema for comment.