Meghan McCain Mulling Run for Office—'This Fever of MAGA Has to Break'
Meghan McCain has revealed that she's considering running for office "in a few years," as she voiced concerns about former President Donald Trump's continued power within the Republican party.
McCain, the daughter of late Arizona Senator John McCain, is known for being an outspoken conservative, most notably through her four-year stint as a panelist on The View. While she proudly aligns herself with the right, she has drawn the line at supporting Trump and the wave of populism that has engulfed the party since his 2016 presidential run under the campaign slogan "Make America Great Again" (MAGA).
During an appearance on British TV network GB News earlier this week, McCain was asked if she would ever consider following in the footsteps of her father by running for a political post.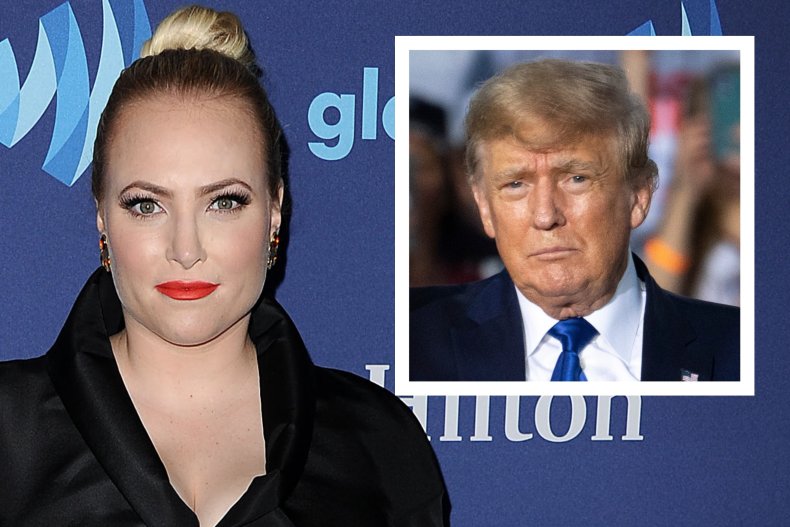 "Maybe in a few years. It's the first time in my entire life I've ever considered it. But this fever of MAGA has to break—one way or the other," said McCain, who departed The View last summer.
"President Trump has to get re-elected—God forbid—again, or he has to just leave the national stage. Because as we have seen in the last election and in the primaries right now, he can't make candidates but he can break them," she said. "And right now there's still just a lot of people who are winning that are following in his footsteps and I would really love more ideological diversity in the party."
However, McCain added that one stumbling block she could potentially face in her pursuit of public office is the fact that she's the daughter of a politician.
"There's a big disdain for political families in the country right now," she said. "It's very populist. President [George W.] Bush's nephew [George P. Bush], I believe, just ran for office and lost in Texas in his home state. There's a real palette for it where people really don't like it."
In an interview with Newsweek in April, McCain said that she did not vote for Trump on either of his presidential runs in 2016 and 2020. She also said that her refusal to go "full MAGA, red meat, alt-right conservative" or renounce the Republican party in light of the aforementioned group's domination has meant that she is among the lesser-heard voices on conservative airwaves.
"I don't want to say it's completely in the minority, but it's certainly not as loud," she explained of her stance. "There's this feeling where if you're not a full populist and believe in the MAGA movement that you're not welcome."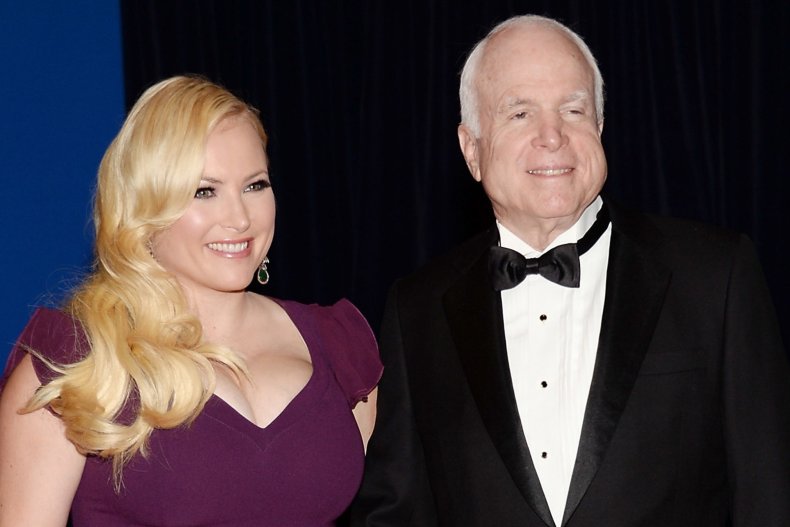 McCain also told Newsweek that the current culture of the Republican party has made her reluctant to go back in front of the camera in the near future.
"I don't want to have to defend things that are indefensible," she said. "The sins of the Republican Party and the sins of President Trump are not the sins of Meghan. I'm still conservative. You know, obviously, that's never going to change.
"What happens in the future going forward is anyone's guess. Just simply because obviously if President Trump is the nominee [in 2024] I will not be voting for him or supporting him. And you know, I think that to go on TV, people want me to defend everything GOP...I just got really worn out about it."
McCain, whose father faced a number of verbal attacks from Trump, further told Newsweek that there "has to be consequences" for the real-estate mogul in relation to the Capitol riot on January 6, 2021.
Hundreds of Trump supporters stormed the U.S. Capitol in an apparent attempt to disrupt the formal certification of Joe Biden's Electoral College victory in a joint session of Congress. The supporters' attack came directly after Trump told them at a nearby Washington, D.C. rally to walk to the Capitol and "fight like hell" to save their country, following his stream of misinformation about the 2020 election results.
While the former president has consistently denied any wrongdoing in connection to the riot, the House select committee is investigating the events of January 6 and the related effort to prevent the certification of Biden's win.
"I would like to see real legal ramifications for what happened on January 6, and who's responsible," McCain said. "I understand why it's not the number one issue for American voters, because they're worried about the economy and Russia and security and safety in major cities. I understand all of that.
"But there still has to be consequences for this behavior and this kind of violence. My fear and my sort of anxiety in this space is just that, I feel like I have been told so many times that this is going to be the moment this is going to be the thing that finally, you know, gets him. This is the lawsuit, this is the whatever this is."
She added of Trump: "His legacy will be one of division and conflict and January 6. But my family, and I feel like I can speak for all of my six siblings and my mother, in the sense like, we do not give a f**k what a Trump thinks of my family. I never will."