Meghan McCain Says 'The View' Host Joy Behar 'Might Have Hated Me'
Meghan McCain has opened up about her relationship with former The View co-star Joy Behar, admitting that the comedian "might have hated" her.
McCain wrapped up her time on the ABC talk show over the summer after four years as the conservative voice at the table—and she has admitted that one on-air swipe from Behar led to her decision to quit The View earlier this year.
In January, when McCain returned to the show from maternity leave, the show's stars were discussing divisions in the Republican party when McCain interrupted Behar, who repeatedly exclaimed: "I'm talking!"
Eventually, McCain joked that Behar had "missed her" while she was off the show on maternity leave, to which Behar replied: "I did not miss you."
McCain responded by calling her comment "nasty," before moderator Whoopi Goldberg quickly moved the conversation on.
In an interview with Variety, McCain said of the moment: "I didn't know I was going to leave [The View] until my second day back from maternity leave when Joy told me that 'Nobody missed me—zero.' That was the day I decided."
She went on: "I had postpartum anxiety. When I was back, I was really nervous. It was like starting TV all over again. I felt unsteady. I was trying to make a joke, 'You missed me so much.' If you watch the clip, her reaction is very sharp.
"I can't explain what it felt like. The people in the room with me in the D.C. bureau, there was a sound engineer and the hair and makeup artists. The sound woman looked shell-shocked at what she'd seen."
McCain revealed in her interview that she broke in tears during a commercial break following the exchange, adding: "I did end up being able to go back on-air. I remember Dr. Sanjay Gupta was on, and he looked weirded out. He went out of his way to be nice to me.
"After the show, I went back to my office and I had a panic attack. I couldn't stop crying, and I'm not always crying. I couldn't compose myself. I threw up in the garbage can. I was so overcome.
"This is my narrative—'I come back from maternity leave and no one missed me.' I knew it was going to be everywhere. I was just so confused, because women when they have babies should be treated respectfully when they come back to work."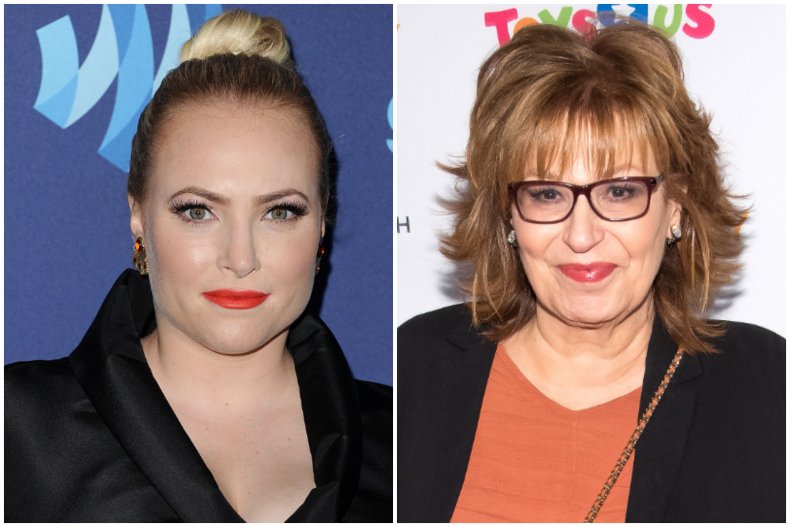 When asked by her interviewer, Ramin Setoodeh, if Behar apologized, McCain said: "I asked for an apology from our executive producer and her producer. They said she wouldn't do it. I don't know if they asked her."
As for why Behar was mad at her, McCain said: "I don't know. She might have hated me."
Stating that she initially had a "great relationship" with Behar, she said things turned with the advent of COVID, when they shot the show remotely. "I think it's easier to solve problems in person," McCain explained.
Elsewhere, McCain also spoke about her relationship with Goldberg, addressing the moment when, during an intense debate, the Oscar winner told her: "Girl, please stop talking!"
"I have a lot of love and affection for her. She was surprised when I left," McCain said of Goldberg. "She yields an unfathomable amount of power in television, in culture. And it felt at a certain point, she didn't want me at the table anymore. It started with the 'Girl, please stop talking!' incident. I remember when it happened almost crying on the show. I never wanted to upset her.
"But I also wanted to be truthful about how I felt about politics and my perspective, and sometimes those two things couldn't co-exist. At a certain point, I made the decision it was more important to be honest than to be liked."
Adding the moment Goldberg told her to "stop talking" was horrible, McCain noted: "To her credit, Whoopi apologized the next morning. I would apologize when I messed up. I f***** up a lot on that show."
She tearfully went on: "I don't know why I'm getting emotional talking about this. A lot of this feels like such a waste. It was humiliating for me, and I'm a serious person. I felt like I was being talked to like I was a child and a brat. And when things go viral on Twitter and people write things, it really does impact you. I felt very lonely.
"I love Whoopi. I felt at a certain point she stopped respecting me, and it was hard. I don't know why I'm crying so much. I wish things could have been different. I know she had her own dark times. When I was on the show, she almost died of pneumonia. I wish we had better leadership that could have stopped a lot of it."
McCain, who has said that her late father, Senator John McCain, encouraged her to join The View in 2017, has more glowing words to share about former co-hosts Abby Huntsman and Sunny Hostin.
"I have a legitimate friendship and sisterhood with both those women outside of The View," she told Variety.
Newsweek has contacted representatives of Behar and Goldberg for comment.