Putin Prolonging War 'Worst Thing' Imaginable for U.S. Economy: Expert
Art Laffer, a former economic adviser in Ronald Reagan's presidential administration, told Newsweek that the ongoing war in Ukraine is having a deleterious effect on the U.S. economy.
Russian President Vladimir Putin has shifted his strategy in Ukraine to a war of attrition, and he's reportedly prepared to continue the war for months. On Wednesday, he told reporters he wouldn't put timelines on ending the war and that he's committed to the goal of liberating parts of Ukraine and reducing what he perceives as threats to Russia.
President Joe Biden has acknowledged Americans are feeling the effects of the war in Russia, and Laffer told Newsweek the conflict being stretched out could have a massive economic impact in the U.S.
"It's going to be a long, long, drawn-out land war in Europe, and that's the worst thing for anything we can imagine," he said. "It's very bad for the economy to have a land war in Europe. Wars are not good for the country—period—and allowing this land war to occur is really horrific ... There's no end in sight that I can see."
President Joe Biden has frequently referred to "Putin's tax hike" when discussing the nation's escalated cost of gasoline. In a speech last week, he noted that gas prices have risen by $2.00 a gallon and "sometimes more" in the U.S. since the start of the war. Earlier in the month, the president also said Putin's tax on food and gas were large contributors to the country's soaring inflation.
While the war in Russia is having an impact on America's economy, Laffer feels Biden is overstating Russia's role in the high cost of gas. He acknowledged the war caused "problems for oil and energy," but that it occurred "much later on."
"The oil problem I'd put 90 percent at the feet of Joe Biden and this administration because of their anti-production policies," he said.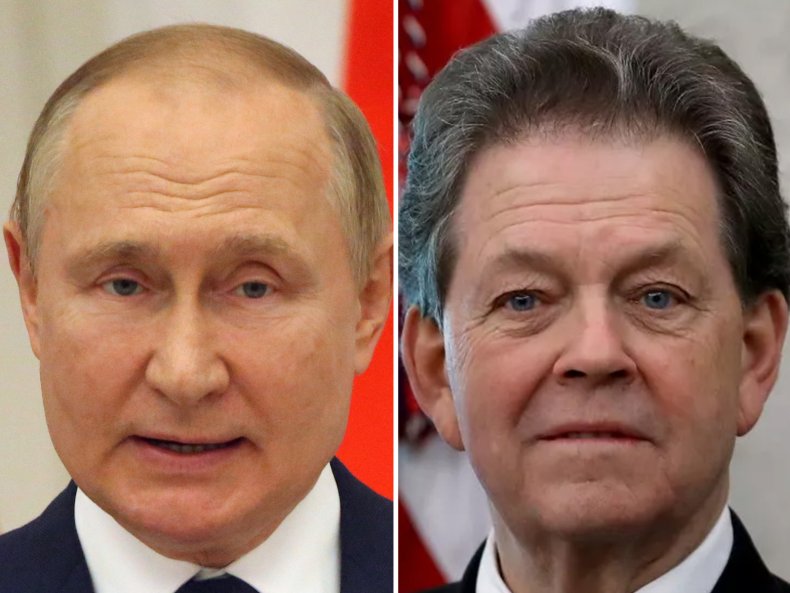 Laffer, who was also an economic adviser to former President Donald Trump during his 2016 presidential campaign, noted oil production is down from pre-pandemic levels, despite the energy industry operating at a "very high capacity."
Along with blaming Putin, Biden has criticized oil companies for profiting off the situation. He's accused companies of "worsening the pain" for consumers and said there's an "unprecedented disconnect" between the price of oil and the price of gas.
Laffer denied oil executives are engaged in price gouging and explained that the law of supply and demand is playing a part in the current high cost of gas.
"If you're the oil industry, and there's a huge demand for your product, what do you do? You raise prices, and you try to produce more. It's like any market. If there's a shift in demand, you'll produce more and raise prices to ration the product you have," he said.
The economist further said oil companies have been hamstrung by not having the ability to drill more.
"If they can't ratchet up supplies, what are they supposed to do? Raise prices to ration the amount they have. It's not gouging ... That's what happens in markets," he said.
While Laffer does see major economic problems in the U.S., he still feels a recession can be avoided. First, though, he said "inflation needs to be solved really quickly" and then Biden must focus on other economic issues.