Resurfaced 1978 Article Sexualizing Brooke Shields, 12, Sparks Outrage
A magazine article, in which a then-12-year-old Brooke Shields is described as "a sultry mix of all-American virgin and nascent whore" has this week resurfaced on social media, sparking outrage.
The article, which was published by High Times in February 1978, is overtly sexual in its descriptions of Shields, who at the time was two months away from the release of her movie Pretty Baby, in which she portrayed a prostituted child.
In the opening paragraph, the writer, bylined as Ed Dwyer, said: "The most perfect nymphette in all creation has been found—in America. Her name is Brooke Shields. Brooke's hair is elegant brown and clean, her skin pale and puritan, her eyes sinfully blue and her lean body just starting to curve into womanhood.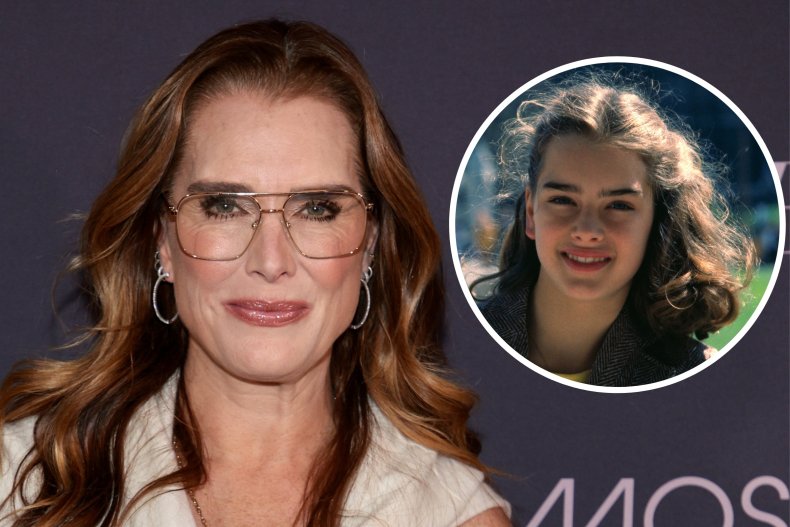 "She's a sultry mix of all-American virgin and nascent whore. She's the hottest new young thing in movies since a smoldering preteen named Elizabeth Taylor stiffened up Louie Mayer's cigar. She is only 12 years old and destined to be the sex symbol of 1964."
Descriptions of Shields, now aged 57, go on to be more sexual and vulgar, with the writer comparing the New York native to other young screen stars of the day.
"Unlike pugnacious Jodie Foster or puerile Tatum O'Neal, she's the delicious stuff of teenage fantasies become flesh: barely old enough to want, but too young to get," the article said of Shields.
Concluding, the writer calls Shields a "sweet temptation to all by blind men and eunuchs. She's a sister, daughter, sex object, victim, lover, tramp. We can look forward to watching her fill out over the next decade. Brooke Shields is not just another pretty baby, baby."
In a post dated June 21, a Twitter user shared a screenshot of the article, which remains in the online archives of High Times' website, alongside the caption that read, in part: "Just in case you thought this was a new phenomenon."
The post sparked a strong wave of outrage among users of the micro-blogging platform, a number of whom expressed shock at such an article being published.
Commenting on the article, The Washington Post columnist Taylor Lorenz wrote: "The first paragraph of this piece alone is horrifying."
The Hill environment/energy reporter Zack Budryk also weighed in on the article, as he discussed how it related to a podcast on Hollywood's early history.
"One of the big themes of this past season of You Must Remember This is 'basically everyone working in Hollywood and the entertainment press in the 80s should be in prison,'" Budryk said.
Swedish art director Åsk Wäppling also expressed outrage at the post, which featured a photo of Shields posing alongside embattled filmmaker Woody Allen among its collage of images.
"You think the Woody Allen photo makes it the creepiest, but then you read 'princess of wet dreams' in the article and it's all downhill from there," tweeted Wäppling.
Allen has long denied accusations that he sexually molested his adopted daughter, Dylan Farrow, as a child. The claims were first made by Mia Farrow after Allen acrimoniously split from her in 1992.
He has never been charged or prosecuted.
Meanwhile, another Twitter user, who described the article as "vile," likened the comments to those made by novelist and film critic Graham Greene about legendary child star Shirley Temple.
"This is so astonishingly vile I almost wonder if it was a parody of Graham Greene on Shirley Temple," said the Twitter user. "Almost any sentence is grounds for execution."
Per a Temple obituary published by the New York Times in 2014, Greene was sued by 20th Century Fox after writing in a magazine review of one of the screen star's movies.
In it, he questioned whether Temple was a dwarf and wrote of her "well-shaped and desirable little body."
Newsweek has contacted representatives of High Times and Shields for comment.
Shields has previously spoken about her how she was sexualized as a young rising star, having posed nude for photographer Gary Gross when she was aged just 10. The images appeared in Playboy publication Sugar'n'Spice.
While her late mother, Teri Shields, had commissioned the nude shoot while guiding her through the early stages of her career, the star said that she wasn't damaged by her experiences, which included a role in the film Blue Lagoon when she was 14.
In a November 2021 interview with The Guardian, Brooke Shields was asked if she felt being exposed to such themes at that stage in life was in any way damaging.
"Not when you grow up in New York," she responded. "I mean, it just takes five minutes to see—on the old 42nd Street—what prostitution was. And also I was very sequestered from all of it in my real life.
"I was a virgin till I was 22, so it was all pretend in my mind. I was an actress. I didn't suffer privately about it."
Addressing the issue of how it might be more widely damaging in culture, the star added: "I think it's been done since the dawn of time, and I think it's going to keep going on.
"There's something incredibly seductive about youth... I think it just has different forms and it's how you survive it, and whether you choose to be victimised by it. It's not in my nature to be a victim."