Stacey Abrams Needs Voters of Color, But Joe Biden Could Drag Her Down
Four years later, it's Stacey Abrams vs. Brian Kemp round two in the Georgia gubernatorial race, and while the race has familiar contours, there are new national dynamics at play.
Abrams, who lost by 1.4 percent and less than 55,000 votes in their first matchup, must once again squeeze every possible vote out of communities of color.
She is primed to do so after building an organizing structure in 2018 that benefited Democrats in the presidential election in 2020 and in the dual Georgia runoff races that gave the party control of the Senate, though allies admit a new restrictive voting law passed in 2021 could present complications.
But Democratic candidates across the country, and up and down the ballot, must also grapple with a difficult national political environment, one in which they could be dragged down by President Joe Biden's low approval rating and inflation taking a bite out of voters' bank accounts.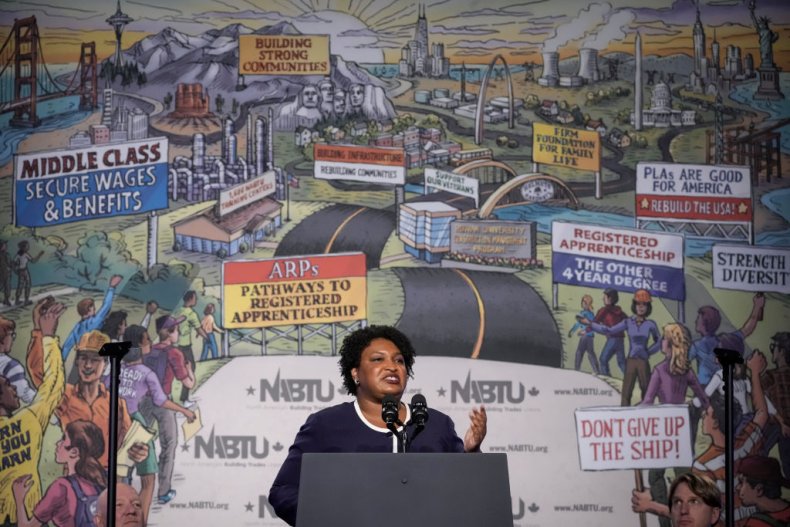 "Inflation is definitely going to hurt Abrams and help Kemp," Maddie Anderson, a Republican Governors Association spokesperson, told Newsweek.
Despite Democrats hoping to reset the national environment given the momentous striking down of federal abortion protections by the Supreme Court, Anderson argued voters are reminded of inflation every time they go to the grocery store of fill up their gas tank.
"Inflation is not going away in the next five months," she added. "As the old saying goes: You vote with your pocketbook, or as Bill Clinton would say, 'It's the economy, stupid.'"
But in telling the story of why Abrams can win this time around, Democrats say the scope of her work to remake the Georgia electorate and help build real organizing power through her groups like New Georgia Project and Fair Fight is still not fully understood.
As the American Prospect wrote, it used to be conventional wisdom that 30 percent of the white vote was needed to win in Georgia, but Abrams sought to upend that model. In her close loss, she took only 25 percent of the white vote, but drove up the nonwhite portion of the electorate to 40 percent, winning 84 percent of voters of color.
Abrams' organizing director in 2018, Delilah Agho-Otoghile, told Newsweek that her refusal to listen to political consultants from Washington, D.C., who told the campaign it was targeting a potential voter universe that wasn't white enough, was vindicated in impressive fashion, with a 57 percent increase in Black turnout, Latino and AAPI turnout tripling, and the youth vote shooting up 139 percent.
She said Abrams' "clearest advantage" the second time around is her ability to fundraise at a larger scale than in 2018.
"She was persuading funders back then, but after what happened in 2020 and the success of Fair Fight and New Georgia Project, they're fully invested now," Agho-Otoghile said.
While the Georgia electorate is often broken down into a simplistic white and Black voters dichotomy, there is also a burgeoning Latino community that has been growing over the last decade.
With Latinos making up 5 percent of the electorate, exit polls showed that Abrams won 62 percent of the Latino vote to Kemp's 37 percent.
While Kemp won by 54,000 votes, there were 385,000 Latino voters registered as of 2020.
"The electorate has grown dramatically since then," said Jerry Gonzalez, the CEO of the Georgia Association of Latino Elected Officials (GALEO), noting that it has gotten younger and a lot more Latinos have registered to vote. He called it "a powerful voting bloc" because Latino voters in Georgia have outpaced national Latino voting rates for several cycles as well.
Abrams, he said, made significant investment in Latino and Spanish-language media last time, calling it "the most outreach we have seen specifically targeting the Latino community that had been done statewide."
Jesus Rubio, the Georgia state director of national grassroots organization Mi Familia Vota, said his organization is working on voter registration programs mostly in rural and harder-to-reach areas because many voters outside the metro Atlanta area "don't have a culture of being civically engaged."
But he said, the largely immigrant Latino community in Georgia does have long memories, and cites one of Kemp's campaign ads in 2018 as anti-immigrant.
"I got a big truck, just in case I need to round up criminal illegals and take 'em home myself," Kemp said in the May 2018 ad.
While Biden began his presidency with 57 percent approval, it now stands at 41 percent, according to a Gallup poll released on June 22. Democrats believe that due to her high-profile and celebrity, a candidate like Abrams will be able to withstand national headwinds from the president, but it is a challenge.
"It's the needle candidates like Abrams have to thread," Gonzalez said, noting that there is "certainly a lot of disappointment on many fronts, from failing on voting rights, to failing on immigration, and not getting things done in the Senate."
In Georgia, there are other obstacles, Democrats say, driven by the new election law.
The law, passed in March of 2021, makes absentee voting harder, makes it harder to cast a provisional ballot if you go to the wrong precinct, shortens the time for runoff elections, and critically, takes power away from the secretary of state over election administration in favor of the Republican-led state legislature.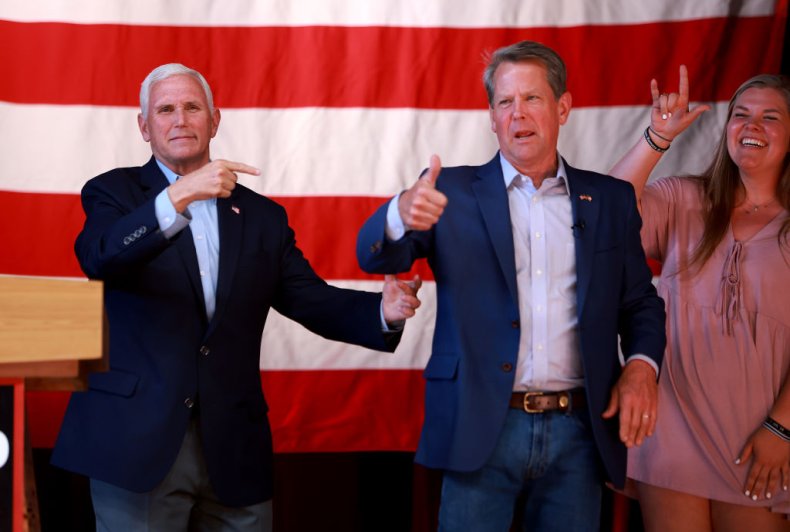 "Biden won't drag her down. If anything drags her down, it will be the voter suppression efforts in Georgia," said Cornell Belcher, former President Barack Obama's former pollster. "At some point if you continue to make it harder to vote, you're going to have less people vote."
Black Democrats, however, say an underreported advantage to energize Blacks in Georgia is that Abrams and Senator Raphael Warnock will both be on the ballot in November.
"The Black community is going to come out in a big way," Agho-Otoghile said. "Warnock is a high-profile celebrity in his own right and the fact that you have him running alongside Stacey is very important."
Voters vote for what will improve their lives, not to make history, Belcher said, but he acknowledged that Abrams and Warnock at the top of the ticket could be viewed "as a symbol of a different kind of power rising in the South." It excites not just Black voters, but the winning coalition from 2020 and 2021, one that is comfortable with diversity, he said.
Daniel Garza, the executive director of the LIBRE Initiative, a conservative grassroots organization that has not yet endorsed Kemp but is doing work in the state, said he has found that while inflation is the top issue for Latinos and many other Americans, it is thus far "exclusively tied to the Biden administration and doesn't seem to be affecting the down-ballot senate or congressional races."
"Abrams has personality and favorable media support, that helps her tremendously," Garza said. "Kemp cannot take this race for granted and the minority vote in Georgia is going to be crucial."
But he warned that the Georgia runoff races in January of 2021 were unique because of the level of resources available to Democrats.
"Abrams is not going to have the kind of money and assets that poured in for Warnock because there will be other races for Democrats to worry about and money will be spread more thin," he said.
With the U.S. Supreme Court striking down Roe v. Wade, it is unclear how the issue will affect the midterm elections, but many Democrats hope it can help recast a race currently dominated by the battered economy.
"I can't underline this enough, it's a huge f***ing opening," Belcher said.
He said that three months ago, he thought Democrats needed a fundamental change in the dynamics of the election or else they were headed toward a similar wipeout as the the 2010 Tea Party wave. He said such instances are rare, but they do happen, citing the September 11 attacks that allowed George W. Bush to pivot from the economy to national security.
Now, given internal polling he has seen, he says Republicans have gifted Democrats a "huge potential mobilizer."
"Their overreach and extremism has absolutely handed Democrats a mobilization opportunity they did not have," he said.
Gonzalez said he sees abortion access and the economy playing roles with his voters.
"Latinas and Latinos care about what's happening with Roe v. Wade, which disproportionately impacts communities of color and the poor, so we're concerned with what those changes mean," he said. But he called inflation "another issue that is impacting my community very deeply."
While the race may once again see a razor-thin margin, Democrats believe Abrams has forever changed the status given to Georgia and the way it is viewed nationally by both parties.
"She doesn't have to persuade people on Georgia being a real battleground and its ability to really determine the fate of our country," Agho-Otoghile said.