Steve Bannon Floats 'Criminal Referral' for Cassidy Hutchinson
Right-wing strategist Steve Bannon, a prominent Donald Trump ally, floated the possibility of a "criminal referral" for Cassidy Hutchinson being sent to the Justice Department after her testimony Tuesday before the House's January 6 committee.
Cassidy, a former aide to Mark Meadows, Trump's White House chief of staff, testified under oath about a series of events and conversations that occurred with top Trump administration officials and the president on and around January 6. Some legal experts have called her testimony a "smoking gun" demonstrating Trump's criminal culpability, while he and his allies have tried to undermine Hutchinson's credibility.
Bannon, who served as the chief executive of Trump's 2016 campaign and then as a chief strategist to the former president, touted the possibility of a "criminal referral" against Hutchinson during a Thursday segment of his War Room podcast with former Trump White House official Boris Epshteyn.
"And I think Jody Hunt, the lawyer [for Hutchinson], should be disbarred," Bannon said. "What they did with this young woman is outrageous—and they're using her. And they're going to cast her aside quickly because of what happened."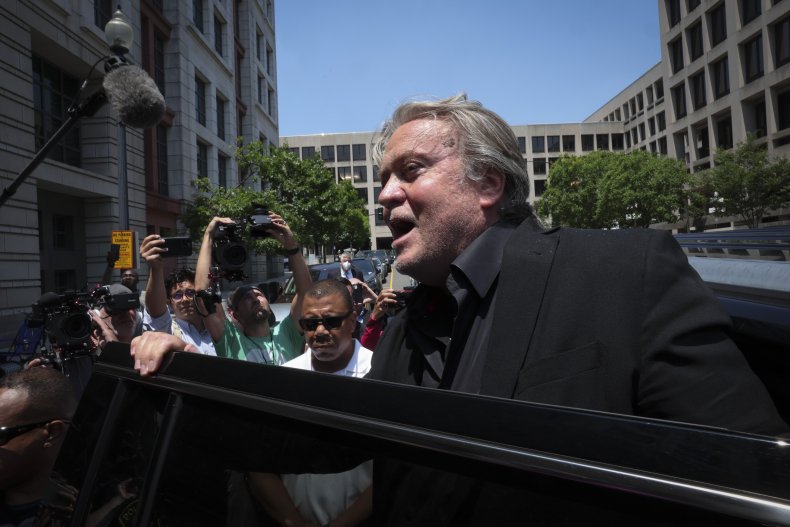 He asked Epshteyn, "Are we going to see some criminal referrals here, sir?"
"We absolutely should. A criminal referral is absolutely appropriate," the fellow Trump ally responded. Epshteyn went on to say that Hutchinson had "lied under oath" and suggested that she had committed "perjury."
Trump and his allies, as well as some others involved in the incidents described, have pushed back against and rejected key parts Hutchinson's testimony.
Hunt tweeted on Tuesday: "Ms. Hutchinson testified, under oath, and recounted what she was told. Those with knowledge of the episode also should testify under oath."
Prominent former Trump administration officials defended Hutchinson and her credibility. "If Cassidy is making this up, they will need to say that. If she isn't they will have to corroborate. I know her. I don't think she is lying," Mick Mulvaney, who served as Trump's chief of staff before Meadows, tweeted after her testimony.
Former Trump aide Alyssa Farah Griffin also defended Hutchinson and described her testimony as "damning."
"Cassidy Hutchinson is my friend. I knew her testimony would be damning. I had no idea it'd be THIS damning. I am so grateful for her courage & integrity. To anyone who would try to impugn her character, I'd be glad to put you in touch w/@January6thCmte to appear UNDER OATH," Farah Griffin tweeted Tuesday afternoon.
Bannon was indicted in August 2020 for allegedly defrauding donors to a crowdfunding campaign that purported to help build Trump's long-promised wall on the Mexican border. Trump later pardoned Bannon on January 20, 2021, just as he departed the White House.
Bannon was subpoenaed by the House select committee investigating the pro-Trump January 6 attack on the Capitol, but he refused to comply. Last November, Bannon was indicted by the Justice Department for contempt of Congress after a criminal referral was approved in the House, with the support of nine Republicans. A federal judge in June declined to dismiss the contempt charges, so the former Trump adviser is headed for trial in mid-July.
Newsweek reached out to Hunt for comment.