'Stranger Things' Fans Share Tweets Hoping Eddie Beats Death Rumors
Amid the release of the highly anticipated Volume 2 of Stranger Things Season 4, fans have taken to social media to share their hopes that Eddie Munson will beat the death rumors and make it out of the season alive.
This article contains spoilers for Stranger Things.
Eddie Munson (Joseph Quinn) was introduced in the first episode as the leader of the "Hellfire Club" and a senior at Hawkins High School. He was held back twice due to failing grades. The Hellfire Club is an organization where people play Dungeons & Dragons.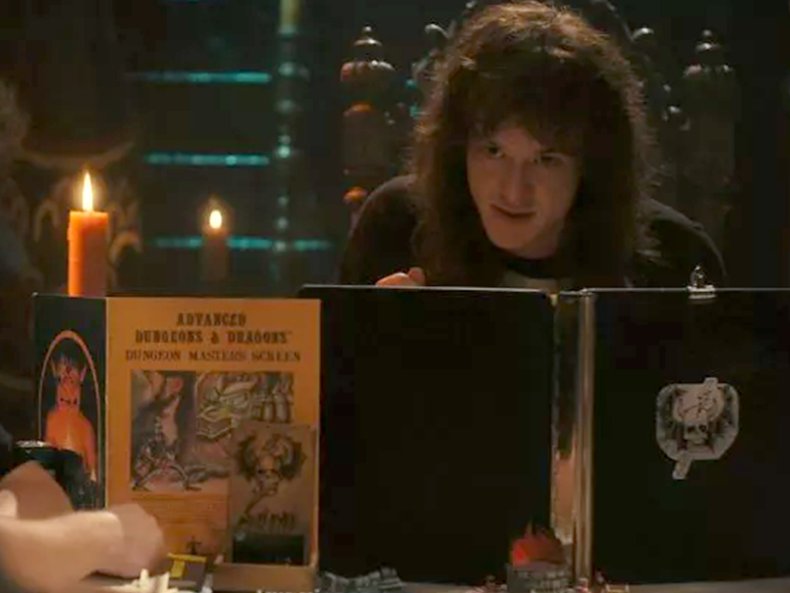 Eddie is a drug dealer that sold to one of the other characters, Chrissy (Grace Van Dien). During the season, Eddie is framed for something he didn't do and ends up tagging along with beloved characters Dustin (Gaten Matarazzo), Robin (Maya Hawke), Steve (Joe Keery), Lucas (Caleb McLaughlin) and Nancy (Natalia Dyer) in order to beat the main villain, Vecna. Fans have grown a liking to the character throughout the show.
Fans took to Twitter to share their hopes that Eddie makes it out alive this season to appear in Season 5. #StrangerThings4 is trending on Twitter with over 100,000 tweets.
"I feel sick over the thought of Eddie dying in vol 2 I can't lose him I will literally spiral," a fan urged.
"eddie munson better be defeating the death allegations on july 1st bc i love him too much," one fan hoped
"eddie munson you WILL beat the death allegations and graduate high school my boy," tweeted another.
"Eddie munson dies tmr watch. they gave this man the perfect death set up. that whole speech about him being a coward then the trailer scene of him playing in the upside down..... oh yeah they got him i fear," one fan predicted.
"Protect Eddie Munson at all cost," pleaded another.
A fan wrote, referring to a quote said in the first episode, "eddie munson is going to beat the death allegations tonight. he's going to get to walk that stage and look principal higgins dead in the eye, flip him the bird, snatch that diploma, and run like hell out of there."
Over the course of the Stranger Things series, fans noticed that newly introduced characters rarely survive, even if they end up having a huge fan following after their death. For example, in Season 1, Nancy's friend Barb (played by Shannon Purser) was killed by the Demogorgon. In Season 2, viewers were introduced to Joyce's (played by Winona Ryder) new boyfriend, Bob (played by Sean Astin), also killed by a Demogorgon. In Season 3, Dr. Alexei (played by Alec Utgoff) died by gunshot. In Season 4, Chrissy died by Vecna's hand.