Trump Committed '20-Year Felony' With Jan. 6 Actions, Glenn Kirschner Says
Former federal prosecutor Glenn Kirschner said Donald Trump committed a "20-year felony" on the day of the U.S. Capitol riot, if testimony this week by former White House aide Cassidy Hutchinson is accurate.
Hutchinson said in her testimony Tuesday before the House select committee investigating the January 6, 2021, attack against the U.S. Capitol that Trump was aware that his supporters were armed with weapons before urging them to protest at the federal building.
The former aide to Mark Meadows, Trump's White House chief of staff, testified that during a conversation just before Trump's speech that day at the Ellipse, the president was told some of the people in Washington, D.C., would not come through security detectors and join the rally crowd because they were carrying weapons they did not want to be confiscated.
Trump responded by saying "something to the effect of: 'Take the effing [magnetometers] away. They're not here to hurt me. Let them in, let my people in. They can march to the Capitol after the rally is over. They can march from the Ellipse. Take the effing mags away. Then they can march to the Capitol,'" Hutchinson said in recorded remarks played in connection with her in-person testimony.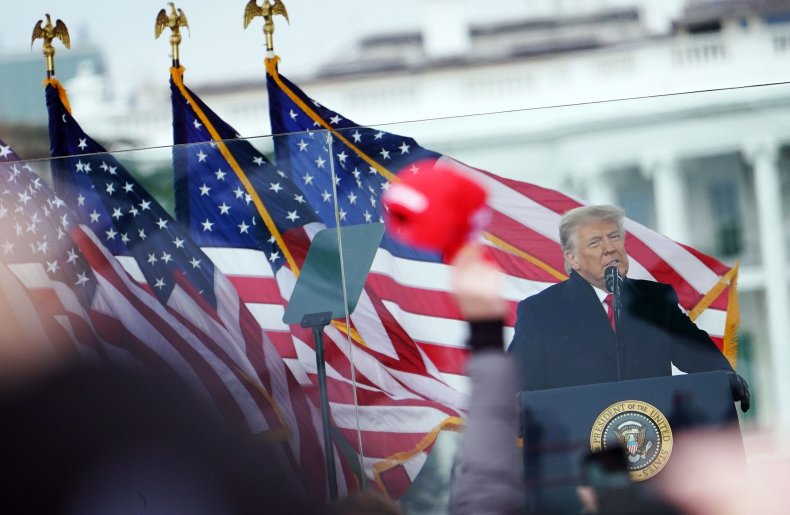 Kirschner, who has 30 years of trial experience and now works as a legal analyst for MSNBC and NBC News, on Thursday gave his assessment of the revelations about Trump's January 6 actions during a radio episode of The Dean Obeidallah Show.
"He's on the hook for a conspiracy to defraud or commit offenses against the United States, inciting a riot, inciting an insurrection, seditious conspiracy, treason," Kirschner said before turning to "new charges" he believes are merited by Hutchinson's testimony. The legal expert cited the section of the U.S. Code of Laws that refers to "assaulting, resisting, or impeding certain officers or employees."
Kirschner explained that the statute makes it criminal to "assault, oppose, impede or intimidate a government official while engaged in or on account of the performance of their official duties—like certifying the results of a presidential election—that's an eight-year felony." The legal expert then noted the penalty is increased if deadly weapons are involved.
"If it involves a deadly or dangerous weapon, it's a 20-year felony," the attorney said. Kirschner noted that Trump opposed, intimidated and impeded Vice President Mike Pence by tweeting an attack against him on January 6. He added that Trump "intentionally set an armed mob on the Capitol," asserting that makes his alleged crime a "20-year offense."
"You can only confine a man for but one lifetime," he added. "So how many of these charges you want to stack up, it doesn't really matter."
During Trump's speech at the Ellipse on January 6, he urged his supporters to walk to the Capitol and "fight like hell." He also demanded that Pence reject the electors from key swing states that had gone for President Joe Biden. As his supporters later violently attacked the Capitol with Pence inside, Trump issued a tweet attacking his vice president.
"Mike Pence didn't have the courage to do what should have been done to protect our Country and our Constitution, giving States a chance to certify a corrected set of facts, not the fraudulent or inaccurate ones which they were asked to previously certify. USA demands the truth!" Trump wrote.
Some of Trump's supporters were chanting "Hang Mike Pence" as they attacked the Capitol. In addition, a gallows was set up outside the federal building.
Trump rejected Hutchinson's testimony on Tuesday, attempting to discredit the former aide.
"I hardly know who this person, Cassidy Hutchinson, is, other than I heard very negative things about her (a total phony and 'leaker'), and when she requested to go with certain others of the team to Florida after my having served a full term in office, I personally turned her request down," the former president wrote in a Truth Social post.
"Why did she want to go with us if she felt we were so terrible? I understand that she was very upset and angry that I didn't want her to go, or be a member of the team. She is bad news!" he added.
Former Trump aide Alyssa Farah Griffith defended Hutchinson and described her testimony as "damning."
"Cassidy Hutchinson is my friend. I knew her testimony would be damning. I had no idea it'd be THIS damning. I am so grateful for her courage & integrity. To anyone who would try to impugn her character, I'd be glad to put you in touch w/@January6thCmte to appear UNDER OATH," Farah Griffin tweeted Tuesday afternoon.
The former president insists that he did nothing wrong on January 6. Instead, he continues to claim that the 2020 election was "rigged" or "stolen" in favor of Biden. No evidence has emerged corroborating the allegations.
To the contrary, more than 60 election challenge lawsuits have failed in state and federal courts. Even judges appointed by Trump have dismissed the legal challenges. Meanwhile, audits and recounts across the country have consistently reaffirmed Biden's win.
Trump's former Attorney General William Barr has said repeatedly that there is "no evidence" to support the allegations. In testimony to the January 6 committee, Barr said he was worried about Trump's mental well-being if he actually believed the conspiracy theories.
"I thought, Boy, if he really believes this stuff, he has lost contact with—he's become detached from reality if he really believes this stuff," Barr testified.