Upper East Side Shooting Just Days After SCOTUS Overturned New York Gun Law
Less than one week after the Supreme Court struck down a New York gun law, a 20-year-old woman has been fatally shot while pushing her baby daughter in a stroller.
New York City Mayor Eric Adams condemned the Supreme Court's gun ruling last week, saying it "will put New Yorkers at further risk of gun violence," while New York Gov. Kathy Hochul called the move "reckless and reprehensible."
Officers found the woman with a gunshot wound to the head near the intersection of Lexington Avenue and 95th Street on New York City's Upper East Side at around 8:30 p.m. on Wednesday, a spokesperson for the New York Police Department (NYPD) told Newsweek.
The woman was taken to Metropolitan Hospital Center where she was pronounced dead, the spokesperson said. Her 3-month-old infant was not harmed, police said, but was taken to hospital for medical evaluation.
At a news conference on Wednesday night, NYPD Commissioner Keechant Sewell said the woman was approached by an "unknown person" who fired a single shot into her head "from a very close range."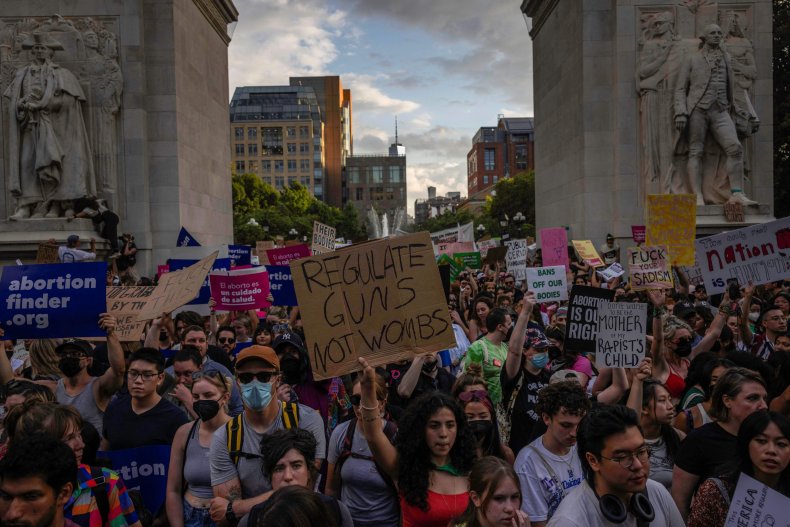 She described the suspect as a male who was last seen wearing all black. He fled the scene on foot, heading eastbound on East 95th Street, Sewell said.
No arrests have been made and the investigation is ongoing, police said. The woman's identity will not be released until her family has been notified.
The shooting comes after the High Court issued its biggest gun rights ruling in more than a decade on June 23, striking down a New York state law restricting who could obtain a permit to carry a gun in public.
Under the 108-year-old law, New York residents needed to show "proper cause" to carry a concealed handgun in public for self-defense. In a 6-3 decision, the court said the law conflicts with the Second Amendment's right to bear arms.
But experts warned the ruling will limit a state's ability to take measures to curb gun violence and lead to a proliferation of guns on America's streets.
At a press conference, Mayor Adams said: "This entire day, we have been addressing the problem of the over-proliferation of guns on our street, how readily accessible they are and how there is just no fear in using these guns on innocent New Yorkers and this is the result of that.
"When a mother is pushing a baby carriage down the block... and is shot at point-blank range, it shows just how this national problem is impacting families."
"More guns in our city mean more lives lost," Adams added in a statement on Twitter. "It means more babies crying as those who love them lie dead. We cannot allow this epidemic to keep claiming lives."
Including the woman killed in Wednesday's shooting, five people have been killed and 19 injured in shootings in New York state in the last 72 hours, according to the Gun Violence Archive.
In an effort to combat the nation's gun violence crisis, President Joe Biden signed the most sweeping gun violence bill in decades into law at the weekend.
The legislation will toughen background checks for the youngest gun buyers, keep firearms from more domestic violence offenders and help states administer "red flag" laws to allow weapons to be kept from people deemed to be a danger to themselves or others.