'The Worst Thing That Has Ever Happened'—Woman Shares Ultimate 'Wordle' Disaster
Unless you've been living under a rock for the past few months, you'll no doubt have been swept up in the global phenomenon of Wordle.
The online game, devised by Josh Wardle (with the title a tweak on his own last name), tasks people to work out a five-letter word, with six attempts revealing a correct letter, and confirming its placement.
Brooklyn-based Wardle debuted the game in October 2021, and it's since soared in popularity, boasting millions of players each day, according to The New York Times, who snapped up the game this week.
The media giant acquired Wordle for an "undisclosed price in the low-seven figures."
Part of the game's success is thought to be its ability to be shared via emojis across social media, from Instagram to WhatsApp, which show off your progress without revealing the answer.
The ability to test and pit yourself against your friends, and the world, has seen players sharing their daily feats online. Which is why one woman's "disaster" has resonated with players, as she shared possibly the unluckiest letter combination to befall anyone.
Lily, from the U.K., posted her effort from Wordle 226 to her Twitter account, @l__i_l__y, on Monday, which can be seen here.
"I wouldn't usually post these but this is, without question, the worst thing that has ever happened," she captioned the snapshot of her Wordle.
It revealed she incredibly managed to guess the last four letters correct the first time, yet five more attempts—with a different beginning—failed to yield the correct word.
Ultimately she lost that day, ending whatever streak she had. Perhaps a solace, her unbelievable score amassed more than 127,000 likes on Twitter as people sympathized with her efforts.
Lily later shared a screengrab of her game, revealing she tried "might," "tight," "fight," "sight," "night" and "right."
All are different words which could very easily have been the answer, which was in fact "light."
"As promised: my disaster," she captioned the image.
After receiving a slew of comments over her gameplay, Lily added: "I had six different words, none of them right. People in the comments have come up with 14, I think."
Speaking to Newsweek, she said: "I've only been playing for a few weeks (finally caved after seeing it all over Twitter) and this was the first time I'd got one wrong. I often play by the 'hard mode' rules, where you have to use a letter once you've got it right, for an extra challenge because I usually have no trouble with it.
"In hindsight, I definitely should have gone with the tactic of using other words to eliminate letters, but I got so caught up seeing that I had 4/5 on the first go that I was absolutely certain that the next row would be right... or the next one...
"I think what I've really learnt is not to play when I'm half asleep! I was just about to go to bed when I realized it was past midnight so I decided I might as well do the day's Wordle, but that turned out to be a bad plan."
Sharing a possible future strategy, Julie Montoya asked: "If four of the letters you guessed first time were green, why would you keep them instead of picking completely different words just to try more new letters with each guess?"
Cephalosapien commented: "I don't know what your 226 was but it is astounding that you could make six alt words for those last four letters if we had the same word."
Sharing his game, which he guessed on the last turn, Kristian Hoareau Foged wrote: "I got lucky on the last one, but damn, I feel you!"
I am chronodude sympathized, saying: "I know your pain all too well."
Fifthstarter said: "This 100 percent could have happened to me, pure luck that it didn't."
While Lelin Daisy added: "T'was a tricky one. Safe to say I was lucky."
When announcing their latest acquisition, The New York Times confirmed Wordle will "be free to play for new and existing players, and no changes will be made to its gameplay."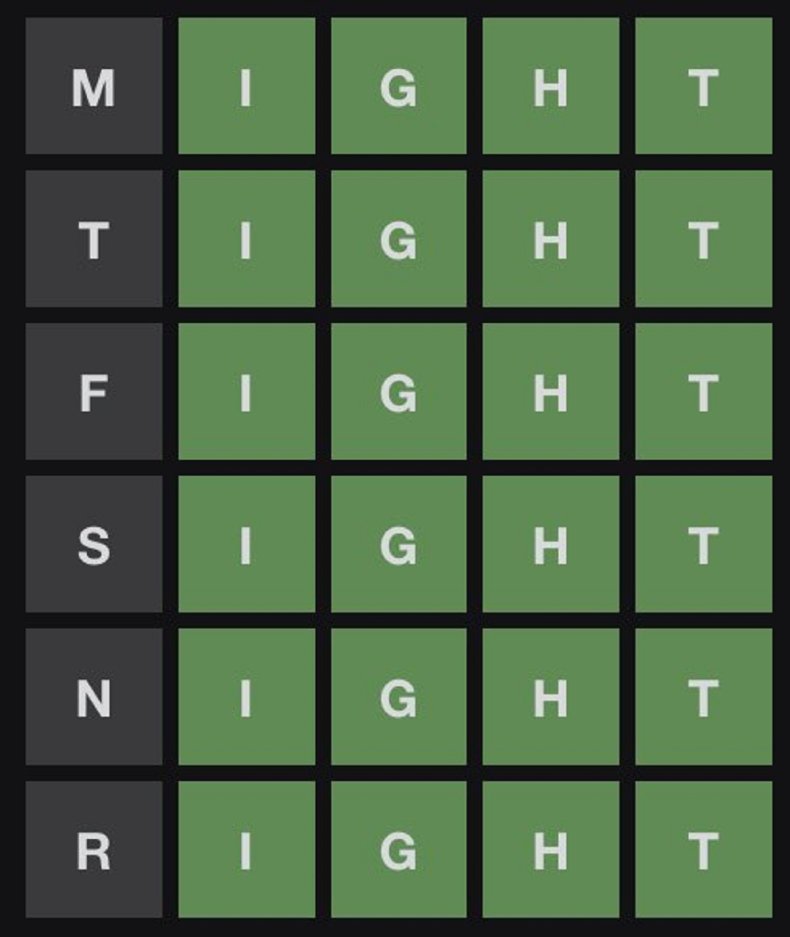 Update 2/3/22, 11 a.m. ET: This article was updated with comment and photos from Lily.